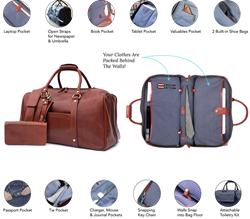 The popularity of our Duffle Suitcase serves as a strong validation that we are solving a problem for travelers. We're anticipating a strong finish as we head into our final week
New York, NY (PRWEB) February 17, 2016
The Duffle Suitcase by Wool & Oak, the most organized way to travel, has more than quadrupled its goal on Kickstarter, becoming one of the most popular travel items in crowdfunding history.
With over $333,000 in pre-orders on Kickstarter from over 1,050 backers, the Wool & Oak Company has blown past its initial goal of $75,000 and it will continue to offer heavily discounted pre-order prices until February 25th at 12:05 PM EST.
"The support has been tremendous and we're grateful to our backers from around the world," says creator Johnathan Webster. "The popularity of our Duffle Suitcase serves as a strong validation that we are solving a problem for travelers. We're anticipating a strong finish as we head into our final week."
The Duffle Suitcase is the perfect mix of luxury and functionality with its 19 features and stylish premium full grain leather design. Wool & Oak designed the Duffle Suitcase to meet the needs of the evolving traveler, and the traveler who is forced to comport and compact more today than ever before.
"We're thrilled that our 1,000 plus backers have supported our vision of delivering a bag that is both stylish and functional," added Webster.
Features include:

Two Removable Walls
Three Organized Compartments
Two Built In Shoe Bags
An Attachable Toiletry Kit
A Snapping Key Chain Feature
Straps to hold your umbrella & newspaper
Additionally, the duffle offers 13 utility pockets including areas specifically for:

Laptop
Ties
Books
Tablets
Valuables and more
The campaign continues until February 25, 2016. For more information and to order the Duffle Suitcase by Wool & Oak, visit their Kickstarter campaign page.
About Wool & Oak
Wool & Oak is a new brand specializing in leather goods. The brand's design philosophy is about the marriage of classic design aesthetic with functionality needed in today's modern world. With minimal branding, Wool & Oak aims to give the customer a sense of ownership of the brand, thus empowering them to mold each piece to their own personal style.
Founded in 2015 by Johnathan Webster, in his studio apartment in the Lower East Side of Manhattan, Wool & Oak separates itself from other brands by offering extremely well made products at a price point that represents aspiration - a step above fast fashion quality and a step below luxury price. Wool & Oak is also unique because the founder, Johnathan Webster, was formally trained in fashion design in Rome, Italy. This brand was founded by an actual designer. Kickstarter is our first introduction into the market.