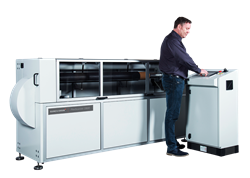 "I believe that the FlexScan will deliver a return on investment within a maximum of 2 years, depending on the amount of sleeves produced. The FlexScan makes history by innovating the entire process of flexo plate production around the world."
Ringsted, Denmark (PRWEB UK) 18 February 2016
FlexScan 1800 digitally scans for "low and high spots" on round sleeves and thereby eliminating the need for a full test run on a flexo printing press. At the same time the FlexScan delivers a quality report (PDF or in print), with relief depth/height that is used to document the quality of incoming or outgoing sleeves. This process can be done in 20 minutes – compared to more than 2 hours with the current quality control process in the market.
"This will enable our customers to cut repro time up to 80 % on each sleeve or adaptor and secure an optimal prepress workflow along with the highest possible print quality," says Søren Jørgensen, General Manager at Glunz & Jensen.
A much anticipated addition to the production line
Today's development in the flexo industry is driven by trends as high quality, speed and low cost in production. As a market leader with a reputation of bringing the most innovative technologies to the market, Glunz & Jensen is constantly looking for areas to optimise processing of flexo plates. With the FlexScan, we have managed to innovate on all critical parameters such as time, waste and quality; features that were extremely important to long-time Glunz & Jensen client, RC Group, who initiated the project and has participated as a test partner of the FlexScan 1800.
Henrik Kofoed, Group Sales Manager at RC Group says:
"I believe that the FlexScan will deliver a return on investment within a maximum of 2 years, depending on the amount of sleeves produced. The FlexScan makes history by innovating the entire process of flexo plate production around the world. Finally, the flexo market will have a tool to benchmark quality, and be able to work with international quality standards and documentation."
FlexScan 1800 will be available globally from February 2016 and can be seen in our Flexo Centre in Rosate, Milan. Read more about FlexScan 1800 here