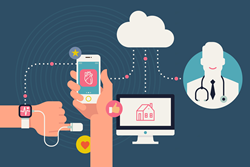 At this year's Consumer Electronics Show, the most significant trend was the next-generation devices that allow patients to be much more involved in overcoming disease and maintaining wellness.
New York, NY (PRWEB) February 19, 2016
Rings, watches and bracelets that help wearers sleep, breathe, wake up and work out. Smart pillboxes that ensure patients take their meds. An ECG in a smartphone and advanced cloud technologies that can support a range of regulatory elements while providing secure, dependable and economical solutions. In 2016, these trends in digital healthcare are faster, more accurate, cost-effective and increasingly, put control of healthcare in the hands of patients.New developments in digital healthcare span wearables, smartphones, heart monitors, wellness apps, smart pillboxes and cloud technologies.
"The newest developments in digital healthcare are the most dramatic and far-reaching yet," says Christopher Lisanti, managing partner at The Exequor Group. The pharmaceutical consulting firm advises its life sciences clients on the most effective ways of analyzing and using the enormous number of digital innovations just coming on to the market and transforming the face of healthcare. "Digital healthcare impacts every component of the healthcare ­system," Lisanti says. Patients, caregivers, hospital systems, medical practices and insurance companies must adapt to a range of digital innovations from wearables to sophisticated monitoring systems.
These and other new products were showcased at this year's Consumer Electronics Show in Las Vegas. But as Lisanti notes, "The most significant trend was the next-generation devices that allow patients to be much more involved in overcoming disease and maintaining wellness."
Both startups and major IT firms are leading the way with technology that already serves providers and patients in the developed world. Their products are now transforming healthcare globally with devices that do the work of doctors, according to Stephen Fox, Managing Director Life Sciences Practice at The Exequor Group
"In 2016, we will see even greater communications convergence in devices such as smartphones, tablets and wearables at hospitals, clinics and emergency services," Fox says. Transmission and storage of medical records will become increasingly important as will protecting those records. "But the most far-reaching benefits of these devices will be cost savings, improved wellness and patients with much more control over their healthcare," Fox affirms. This year will see even more advances and wider adaptation of these leading trends:
Wearables - Monitoring, Coaching
The popular Apple Watch and Fitbit bands are paving the way for more extensive monitoring. Wearables have done much to put patients in control of their health, tracking blood pressure and blood sugar levels. One of the newest wearable devices, the Spire Stone, serves as a personal health coach. This activity and respiration monitor helps users to a calmer and healthier lifestyle by monitoring breathing patterns, alerting them to rising blood pressure, tensions and agitation. The device, worn on the waist or attached to a bra, provides breathing exercises to control tension, anxiety, blood pressure and to increase endorphins.
ŌURA is a revolutionary ring-sized wellness computer and app. It helps users to get more restful sleep and adjust daily activities towards better balance and performance. Elegant and ergonomic, the ring advises the wearer when are optimum times for rest or for more challenging activity.
Wireless Pill Bottles - Take As Directed
The most advanced medicines won't be effective if not taken as directed. Patients, physicians, pharmacists, life science companies and insurers, need to know the regimen is being followed correctly. Using AdhereTech's "smart" pillboxes, adherence data is sent to HIPPA compliant services where information is analyzed in real time. If a dosage is missed, the system alerts the patient via phone, text, lights or chimes from the medicine bottle.
Cloud Control - Protecting Patient Privacy
Privacy and security concerns are utmost in importance to healthcare systems. As cloud technology advances and spreads to virtually every industry, hospitals and healthcare providers will utilize cloud technologies that can support a range of regulatory elements while proving secure, dependable and economical solutions.
Mobile Heart Monitors - An ECG in a Phone
Smartphones become mobile ECGs that can pick up the warning signs of heart problems. The Alive Cor Mobile ECG allows patients to track and record activities, diet, symptoms and heartbeat fluctuations, alerting them to the possibilities of a heart attack or stroke. Apple has released a watch that uses a heart-rate sensor and accelerometer to track of vital signs, activity, and lifestyles.
The Exequor Group offers its life sciences clients a range of Digital Healthcare workshops and forums as well ad a customized report, Innovations in Digital Healthcare. For more information contact:
The Exequor Group
Email: info(at)exequorgroup(dot)com
Telephone: 917.748.0563
About The Exequor Group
Exequor means "to execute" - to take action, to accomplish, to achieve. The Exequor Group is a consultancy with industry verticals in Life Sciences and Financial Services. The Life Sciences practice works with pharmaceutical, biotechnology and medical device manufacturers to maximize the commercial value of their products in the changing healthcare landscape.
Media Contacts:
Christopher Lisanti
The Exequor Group
917.748.0563
christopher.lisanti(at)exequorgroup(dot)com
Anne Sweeney
Anne Sweeney Public Relations
732.329.6629