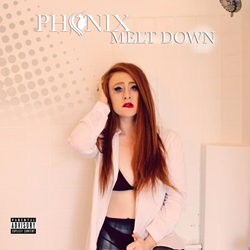 Nashville, TN (PRWEB) February 18, 2016
Today Coast 2 Coast Mixtapes announce the release of "MeltDown", the latest single Nashville recording artist by Phenix. The single is currently available for streaming and download at the Coast 2 Coast Mixtapes website.
Phenix is currently seeking press opportunities, interviews, features, and more. Phenix can be reached through her official Twitter page.
About Phenix: It takes an old soul to realize that beauty is often born from struggle. It takes a person with a special kind of awareness of this, to focus their entire life's work and artistry on this constant evolution. Phenix, a musical artist based out of Nashville, TN has done just that. Drawing from life experiences that often challenged and questioned, her heartfelt lyrics and stories encourage her listeners to rise from their ashes and embrace the beauty of being reborn. Extremely expressive with her writing and performing, her music is a reflection of the true complexity of her artistry. She is known for writings that not only express the depths of her soul, but also infuse edginess and playfulness.
Phenix has coined her sound as "Roxul Pop," a self-made genre which encompasses a mixture of pop melodies, soulful infusions, and is tied together with a rock edge. Her theatrical, emotional performances can be likened to those of Meg Myers, Lady Gaga and Banks. Phenix can be seen playing all over, having opened for people such as Just Brittany in Houston, TX. She has also headlined at popular Nashville clubs, including Limelight, Seen, and The End. Phenix is currently working on her debut EP, "Meltdown" which will be released Fall 2015.
Aside from being a strong independent artist, Phenix has also collaborated with lots of well-known players in the game. Her most recent project is a song entitled "Look At Us Now," which features hip hop legend Jim Jones on both the track and upcoming music video. Another song of hers, entitled "Steal The Show," features verses from both Cassidy and Jadakiss, set to be released following the EP. Phenix is also a co-writer and feature on a track called "Hurricane Dreams," with artists Low Pro, and Caleb D who is affiliated with Slumerica and Yelawolf.
Phenix is an artist that thrives on being involved in every aspect of the artistry. Aside from having a creative hand in almost every collaboration she is involved in, she also directed the music video for her single "Ice Cold", and has produced her entire debut EP. She has been known to have a voice in photo shoots, and manage her web presence so that it is completely in alignment with her humanitarian outlook and vision. Both on and off stage, Phenix is known for her edgy attire that captures her fiery intense persona. Instantly recognizable by bright red hair, that envelopes her frame like fiery wings, she is an artist who has worked hard to embody the image behind her title.
Originating her name based on the legend of the Phoenix, Phenix sees her life in correlation with the mighty bird in a philosophical self-reflective manner. As the legend goes, the Phoenix dies in a burst of flames and slowly rises from the trenches, embracing the level of vulnerability and naked honesty that comes with rebirth. Spreading her wings, Phenix saw self-acceptance, and was gifted with instant gratitude towards the darkness she rose from. As an artist, Phenix's aim is to use her life and music to empower those around her to embrace their own falls and triumphs. Through art, and most importantly, music, Phenix hopes to give voice to a everybodies inner revolution.
"And so a movement was born within an artistry, a bird within its own flames, and a world within its own acceptance."
For more info on Phenix visit her official website.
About Coast 2 Coast Mixtapes: Coast 2 Coast Mixtapes are the most widely distributed mixtapes in the world, with over 100 million downloads/plays generated by over 300 volumes officially hosted by major artists. Coast 2 Coast has a solid reach in the new music industry with a digital magazine, DJ coalition, industry tips blog, yearly convention, and more. Coast 2 Coast Mixtapes represents a unique opportunity for artists of all urban genres, from major to indie. For more information, visit http://www.coast2coastmixtapes.com.