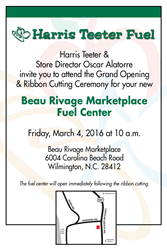 Matthews, N.C. (PRWEB) February 19, 2016
Harris Teeter is proud to welcome customers to its Beau Rivage Marketplace Fuel Center on Friday, March 4, 2016 at 10 a.m. as the company celebrates its grand opening with a ribbon cutting ceremony.
Harris Teeter currently operates four other Fuel Centers in North and South Carolina; however, this is the company's first Fuel Center in the Wilmington market. At each of its Fuel Centers, Harris Teeter strives to offer customers an excellent experience through high-quality products and great customer service.
The Fuel Center, which is located in close proximity to the Beau Rivage Marketplace Harris Teeter, will offer customers $0.03 per gallon every day with the use of a VIC card.
Fast Facts
Store Address: Beau Rivage Marketplace, 6004 Carolina Beach Road , Wilmington, NC 28412
Grand Opening Date: Friday, March 4, 2016
Grand Opening Time: 10 a.m., ribbon cutting, store open immediately following
Store Hours: staffed daily from 6 a.m. – 10 p.m.; fuel available for purchase by debit/credit card 24 hours
Square Footage: 240
Fuel Dispensers: Five