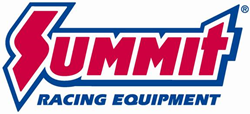 Tallmadge, OH (PRWEB) February 25, 2016
Summit Racing now carries Mopar Performance Suspension Lift Kits, TITAN Trail Trekker Auxiliary Fuel Tanks, and Painless Performance Trail Rocker Control Systems for the popular Jeep Wrangler JK.
Mopar Performance Suspension Lift Kit for Wrangler JK
Mopar Performance's Two Inch Suspension Lift Kit for the 2007-11 Wrangler Unlimited delivers an excellent blend of control and ride quality. The lift provides the additional ground clearance and is an ideal solution for fitting larger wheel and tire combos (up to 35 inches) without clearance issues. The Mopar Performance Lift Kit provides the maximum suspension travel afforded by the Wrangler Unlimited's stock driveline. That means installers won't have to worry about replacing driveshafts or shimming pinion yokes.
TITAN Trail Trekker Auxiliary Fuel Tank for Wrangler JK
TITAN's Trail Trekker Auxiliary Fuel Tank provides an additional 12 gallons of temporary fuel capacity. It secures to the rear tire carrier, fitting snugly between the carrier and the wheel. This clever placement helps protect the tank from abrasion and won't significantly affect the Jeep's departure angle. Fully fueled, the Trail Trekker Auxiliary Fuel Tank weighs about 100 pounds and will fit wheels from 15 to 37 inches in diameter.
Painless Performance Trail Rocker Control Systems for Wrangler JK
Upgrading a Wrangler JK with off-road gear like a winch, air compressor, and light array used to mean installing a slew of electrical switches in the cabin. Painless Performance just introduced its Trail Rocker Accessory Control System, which safely routes and organizes all of that accessory wiring. The end result is a factory-looking switch installation that keeps accessory controls within arm's reach.
Summit Racing Equipment
http://www.SummitRacing.com
1-800-230-3030