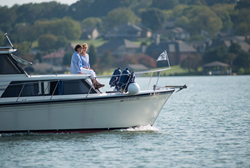 2016 Bliss Award - Best Tennessee Community of the Year
Knoxville, Tennessee (PRWEB) February 22, 2016
Each year, Real Estate Scorecard spends a month renting a home in one of the cities they recommend to their readers who are searching for ideal places to live in the south. Last July, it was in Loudon Tennessee at Tellico Village, an established master planned community and winner of our 2014 Bliss Award for Happiest Community of the Year. The team enjoys being around happy people, and so the village was an obvious choice. One of the big bonuses they gained was learning more about the benefits of living on 16,000 acre Tellico Lake, one of the cleanest lakes in Tennessee in the foothills of the Smokies. Boaters who are in no rush, can navigate all the way to the Gulf of Mexico through the Tennessee River lock system.
Before they arrived, they had committed themselves to experiencing all the amenities and attending as many social events as possible. Although their days were filled from the crack of dawn, to the star-filled nights, they left barely scratching the surface. Tellico Village's main amenities include three championship golf courses, a state-of-the-art 26,000 square wellness center, and 18 tennis & pickleball courts. Some of the residents refer to the village as 'Camp Tellico' because it feels like a kid's summer camp with long, sun filled days and fun activities centered around a lake. Real Estate Scorecard observed firsthand everyone having a blast in one of the best places to retire in Tennessee.
Read over 1,400 bona fide property reviews from the Villagers on Real Estate Scorecard's website and sense the urge to move there tomorrow. One property owner shares "we looked in seven states that had over 15 lakefront golf communities and selected Tellico Village for its quality lifestyle, amenities, and social network. Having now lived here for three years, we have never looked back. We have more friends here than we've had anywhere else we've ever lived. The relationships are stimulating and rewarding. The community is financially stable and continues to grow. We are very happy here and so is everyone we know."
Folks who live at the village year round have a treasure trove of things to do without ever leaving the neighborhood. Real Estate Scorecard enjoyed shopping at the bi-weekly summer farmer's market in the parking lot of the Tellico Village Yacht Club. The club is a two story lodge with walls of glass windows overlooking Tellico Lake. The club is always bustling with activity, and on the weekends residents tear up the dance floor to live entertainment. They ate there several times and the food was delicious.
Development of Tellico Village began back in the 1980's. It's hard to comprehend the size of Tellico Village because it is not a cookie-cutter track home development. Homes are nicely spread out and a good percentage of them have some type of views, either of the lake, the golf course or of the Smoky Mountains. There are approximately 3,500 homes built to date. About 500 or so are built on Tellico Lake.
It was the summer time and easy to see why Eastern Tennessee has become one of the ideal places to live near the Smokies. The water was warm and the nights were cool. Real Estate Scorecard watched fireflies dance at sunset and deer play peekaboo at sunrise. If folks weren't out of their boat waterskiing or floating on rafts, they saw them enjoying their floating water trampolines and curved elevated slides on the docks. "We stay so busy we have to take "rest days!" We are a golf/boating community and we stay young laughing with our neighbors and having fun" shares a Villager.
The genuine friendships among the property owners was wonderful to witness. Another Villager shares "everyone is so kind in the south. Most of us had to leave our families and come from other states and did not know anyone. Most of us were in this same boat. Either sink or swim. Well, the kindness at Tellico allowed us to sail and we've never had second thoughts." There's also strong commitment to the local community. The Villagers have started dozens of non-profit organizations and/or have spearheaded compassionate causes in Eastern Tennessee. Last year, a number of villagers completed the last leg of the East Lakeshore Trail, a 30 mile hiking trail system that's taken 12 years to build. Real Estate Scorecard hiked it and it was beautiful. The trail system leads hikers through a forest to elevated outlooks. We talked with many of the local business owners who told us how the Villagers have positively impacted the region in so many ways.
Without mandatory and expensive monthly membership fees, folks at the village can enjoy a country club lifestyle at their own pace and within their budget. Everything at the village is paid for a-la-carte. If folks don't use it, folks don't pay for it. Monthly POA fees are low at around $115 a month. Villagers get a lot for their money at the village. In addition to the well maintained and new amenities, the POA has done an excellent job in marketing the village to prospective buyers, elevating everyone's property values from the rising demand. Home prices continue to climb. In 2015, they averaged $368,000 or $135 per square foot.
Water has always been an important attraction to buyers. Finding a master planned community that faces the Great Smoky Mountains with 16,000 acres of clean water is priceless. As Real Estate Scorecard has said before, Tellico Village is a benchmark in the real estate industry delivering happiness every single day. It is fiscally well managed and is quite an outdoor playground.
Real Estate Scorecard has seen dozens and dozens of communities across the State of Tennessee. Tellico Village continues to impress them with the full package. Friendly people, fun things to do for families of all ages and a strong leadership team making sure nothing misses a beat. They are thrilled to honor Tellico Village with a Bliss Award in 2016 as the Best Tennessee Community of the Year.
If folks are exploring the best places to retire in Tennessee, folks are encourage to stay for a weekend at Tellico Village. They have an excellent Discovery Package.
About Real Estate Scorecard:
Real Estate Scorecard writes unbiased real estate reviews providing in-depth information about popular gated communities in Florida, Georgia, North Carolina, South Carolina and Tennessee, all in an effort to help people discover where to retire in the Southeast.
Website: http://realestatescorecard.com