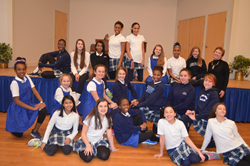 (PRWEB) February 22, 2016
The award-winning Garrison Forest School (GFS) Middle School Chorus has been invited by Distinguished Concerts International New York City (DCINY) to perform on March 7, 2016 in the Music for Middle School Mixed Choir entitled "Between Heaven and Earth," at Carnegie Hall. Twenty-five members of the GFS Middle School Chorus will sing as part of the 200-member middle school choir. The middle school choir is one of three choirs performing that evening.
This concert, conducted by renowned conductor, educator and composer Tom T. Shelton, Jr., features choristers from around the world to form the Distinguished Concerts Singers International, a choir of distinction. Mr. Shelton will lead the performance, which will include seven pieces, and will serve as the clinician for the five-day residency in New York City. GFS students and all vocalists performing will spend approximately 9-­10 hours in rehearsals over the five-day residency. Mr. Shelton is the assistant professor of sacred music at Westminster Choir College, conductor of the Princeton Girl Choir's Cantores (High School) ensemble and director of Music for Children and Youth at Princeton United Methodist Church.
Garrison Forest's Middle School Chorus, under the direction of Virginia Flynn, Middle School music teacher and the immediate past president of the Maryland Music Educators Association, was sought out for participation. "The Garrison Forest Middle School Chorus received this invitation because of the quality and high level of musicianship demonstrated by the singers as well as the exceptional quality of their audition recording," says Dr. Jonathan Griffith, Artistic Director and Principal Conductor for DCINY. These wonderful musicians not only represent a high quality of music and education, but they also become ambassadors for the entire community."
The GFS Middle School Chorus is no stranger to accolades. For the past five consecutive years, the 50-member vocal ensemble has won First Place Women's Choir with a Superior Rating at the Music in the Parks competition at Hershey Park. For the past four years, the all-girls group has won "Best Overall Choir" as well.
In addition to several rehearsals at Carnegie Hall, the Garrison Forest students will visits the One World Observatory and the 9/11 Memorial Museum and attend the Broadway musical, "Matilda, the Musical," at the famous Shubert Theater.