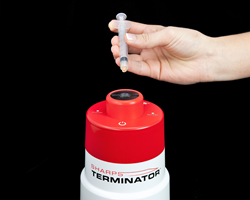 We are extremely excited to gain marketing approval from the FDA for the Sharps Terminator®. It is our greatest hope that we can now begin to help reduce this worldwide problem; one needle at a time.
Lubbock, TX (PRWEB) February 23, 2016
Sharps Terminator, LLC announced today that their flagship product, the Sharps Terminator® gained approval this week from the FDA for marketing in the US. The Sharps Terminator® is a portable, re-chargeable needle destruction device designed to destroy hypodermic needles attached to syringes 18 - 27 gauge and up to two inches in length in less than three seconds. It is a Class III medical device regulated by the Food & Drug Administration (FDA.)
The device is specifically designed to help reduce the potential for accidental needlestick injuries in the workplace caused by needles left on syringes after one use. Needlestick injuries sustained from contaminated needles can often lead to more catastrophic illnesses from viruses such as Ebola, HIV and hepatitis C.
Sharps Terminator, LLC spokesperson Robert Blasingame stated: "the CDC guidelines for Sharps Safety in Healthcare Settings continues to stress One Needle, One Syringe and Only One Time; we want to take that one step further by providing a light weight portable device to destroy needles immediately after one use at their point of use, or point of procedure."
The Needlestick Safety & Prevention Act (the Act) was signed into law by the President 16 years ago and still the problem persists. Contaminated needles are now a global problem of epic proportions. There are now over 25 million persons living with HIV in the Sub Saharan Africa according to the World Health Organization (WHO) and nearly 2.5 million in India. Worldwide there are more than 35 million people living with HIV and everyday more than 5,700 people contract HIV – nearly 240 every hour. And when you consider this is only one of at least twenty bloodborne pathogens that contaminated needles can carry, it places many at risk from injuries caused by needles.
"We are extremely excited to gain marketing approval from the FDA for the Sharps Terminator®. It is our greatest hope that we can now begin to help reduce this worldwide problem; one needle at a time."