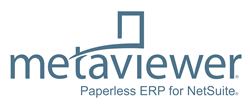 Our customers benefit from a certified solution – tested and confirmed against new NetSuite releases before their upgrades.
(PRWEB) February 23, 2016
As a provider of state-of-the-art document management technology, it's important to constantly advance and develop, while maintaining certifications with integration partners.
In order to provide customers with a certified solution for new NetSuite releases, Metafile Information Systems announced today that it has re-verified its MetaViewer document management solution as a NetSuite "Built for NetSuite" SuiteApp. MetaViewer became Built for NetSuite certified in Dec. 2014 and has certified its SuiteApp for NetSuite 2015.1, 2015.2 and 2016.1.
The reverification process consists of:

The MetaViewer team tests its functionality against an upgraded NetSuite development environment, identifying any issues and resolving them.
The MetaViewer team reviews changes to the SuiteApp Architectural Fundamentals and Examples (SAFE) and its questionnaire, and submits an updated questionnaire.
The NetSuite team reviews the re-verification and approves the application as Built for NetSuite.
"The reverification process is an opportunity for us to uncover any issues or inconsistencies with our integration with NetSuite before it reaches active customer accounts," Nick Sprau, VP of marketing and sales at Metafile Information Systems said.
NetSuite customers also have the chance to experience a pre-release review window where they can test the new NetSuite application with their integrated products, like MetaViewer.
"Our customers benefit from a certified solution – tested and confirmed against new NetSuite releases before their upgrades," Steve Conners, software developer at Metafile Information Systems said. "We encourage customers to do the pre-release review to help them get the most out of their integration."
MetaViewer will be re-verified twice per year, with each NetSuite release cycle, in order to maintain its Built for NetSuite certification and stay compliant with the latest NetSuite technology.
Learn more about MetaViewer for NetSuite.
About Metafile
Founded in 1979 and headquartered in Rochester, Minn., Metafile is an established, independent and efficient provider of paperless document management software applications supporting accounts payable, accounts receivable and human resources departments in middle-market and large businesses nationwide. More than 3,500 organizations have translated Metafile's content management solutions into enterprise-wide value and a competitive advantage. MetaViewer is Metafile's flagship paperless document management solution, offering paper and electronic invoice capture, web-based workflow, two and three-way matching, real-time graphical visibility and full ERP integration. Today, more than 15,000 financial professionals worldwide are efficiently processing more than 15 million paperless transactions per week with the MetaViewer solution. For more information visit http://www.metaviewer.com.
About NetSuite
NetSuite Inc. is the industry's leading provider of cloud-based financials / Enterprise Resource Planning (ERP) and omnichannel commerce software suites. In addition to financials / ERP and omnichannel commerce software suites, NetSuite offers a broad suite of applications, including financial management, Customer Relationship Management (CRM), ecommerce and retail management, Professional Services Automation (PSA) and Human Capital Management (HCM) that enable companies to manage most of their core business operations in its single integrated suite. NetSuite software allows businesses to automate operations, streamline processes and access real-time business information anytime, anywhere.