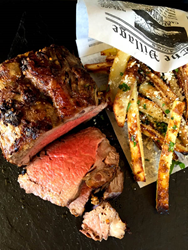 San Diego, CA (PRWEB) February 25, 2016
Lajollacooks4u, a unique cooking and dining experience for couples and corporate teambuilding, opened its kitchen to Coldwell Banker, Doug Arnold Real Estate, one of California's premier Real Estate companies in Yolo County, for an afternoon of cooking and delicious food.
Realtors and their spouses traveled from Davis, CA, gathering in Lajollacooks4u's spacious kitchen, where founder, Chef Jodi, instructed the group through a series of cooking demonstrations.
Cory Gold, Broker Sales Associate, contacted Chef Jodi in September 2015 regarding a company retreat for the real estate company. A site visit was subsequently put in place with a visit from Jan Ventimiglia, Director of Company Culture for Coldwell Banker Davis, who finalized the trip in October and selected Lajollacooks4u.
The February afternoon class was filled with laughter and plenty of fine cuisine as the group marveled at the Pacific Ocean scenery from Lajollacooks4u's kitchen, atop Mt Soledad. The meal was accompanied with fine wine and friendly conversation.
Among the ten people in attendance were Scott Stone of Yolo Land & Cattle Company based in Yolo County, CA. The cattle ranch is known for its 100% grass-fed Angus beef. Don Guthrie, another guest, is a gardener who grows hundreds of heirloom tomatoes in his spare time.
The rest of the group proved to be equally knowledgeable when it came to cuisine and cooking with some group members having previously taken cooking classes in Napa County, Northern California. Attendee Leslie Baroody described the afternoon class as 'Fangastric!'
"This was an exquisite experience; we loved the venue, the passionate instruction, fun environment, fabulous food and astounding view - what an incredible day," Baroody said.
As the realty group discovered, Chef Jodi's kitchen offers a unique activity that encourages teamwork and collaboration to produce a gourmet five-course meal. Lajollacooks4u's unique and intimate setting provides a friendly environment where participants can relax, sip wine and laugh together claiming proud ownership of the dishes they created together.
Lajollacooks4u's team-building events can accommodate small groups to medium sized groups of up to 30 participants. Popular team-building events include executive and departmental members, holiday parties, sales meetings, and employee rewards. All events at Lajollacooks4u are personally customized to meet the needs and desires of the business.
The guests who experience Chef Jodi's beautiful Italian-inspired villa emerge from the cooking classes with enduring memories and tasty recipes. All year long families, couples and businesses have expressed their excitement and positive feedback regarding their experience which is reflected in repeat customers and consistent top TripAdvisor ratings. Lajollacooks4u is more than its cooking classes or its cookbook- it is a lasting experience that ignites a passion for food, friends, and fresh perspective.
About Coldwell Banker Davis
Coldwell Banker Doug Arnold Real Estate (CBDARE) is part of the Coldwell Banker Franchise Network. CBDARE was founded in 1972 and became associated with Coldwell Banker in 1985. They have three office locations ~ two in Davis and one in Woodland with over 70 active Realtors
About Lajollacooks4u
Lajollacooks4u, founded in 2008, provides a unique and intimate activity for couples, corporate team-building, and any foodie looking for a unique cooking and culinary experience in an ideal setting overlooking the Pacific Ocean. Based in La Jolla, a suburb of San Diego, Calif., Lajollacooks4u has enjoyed record growth since its inception and is ranked as a top attraction in La Jolla on the world's largest travel review site, TripAdvisor. For more information, contact Jodi Abel at jodi(at)lajollacooks4u(dot)com or phone 1-858-752-4980.
Lajollacooks4u customizes all events to meet the desires and needs of the organization. For reservations, contact Jodi Abel, as listed above, or visit Lajollacooks4u's website at http://www.lajollacooks4u.com