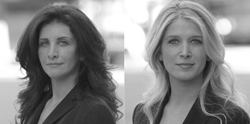 (PRWEB) February 24, 2016
Ariana Meyerson and Erica Miller Masiello, a realtor team at Cantor and Pecorella, serving in the Tribeca, New York City, market, have joined the prestigious Haute Living Real Estate Network.
The Haute Living Real Estate Network (HLRN) of Hauteresidence.com is proud to recognize Ariana Meyerson and Erica Miller Masiello as prominent real estate professionals and the network's newest partner. HLRN unites a distinguished collective of leading real estate agents and brokers, highlighting the most extravagant properties in leading markets around the globe for affluent buyers, sellers, and real estate enthusiasts.
About Ariana Meyerson and Erica Miller Masiello:
Born and raised in New York City, Ariana Meyerson possesses extensive knowledge of all of Manhattan's neighborhoods and has over 17 years of real estate experience. She found her family fourteen years ago at Cantor and Pecorella, where she serves as the managing director.
Having the opportunity to work directly under Dana Pecorella and Richard Cantor has broadened Ariana's extensive knowledge in floor plan design, pricing, marketing campaigns, and all other facets of real estate sales and marketing in Manhattan. She works closely with developers to enhance all phases of the planning, marketing, and sales of new residential building and rehabilitation projects.
Developers and customers immediately feel comfortable with Ariana's warm and honest demeanor and trust her sound instinct and valid insight. As she is extremely knowledgeable and thorough, she will go to great lengths to answer any question for her clientele and provide the information they require to make the right real estate decisions.
Ariana supervises the company's day-to-day operations and team of agents while fueling the office with positive energy, ideas, and motivation. Her recent work includes managing three of the largest and most successful condominium projects in Tribeca: 250 West St, 5 Franklin Place, and 443 Greenwich.
Erica Miller Masiello joined Cantor and Pecorella in 2005. As a real estate agent and director, she prides herself on her strong work ethic, methodical preparation, and extensive real estate knowledge. Her take-charge ability and innate flair for interacting with peers and clients has earned Erica her position as sales director.
Erica's well-honed organizational and managerial skills are just two of the reasons she is often chosen to manage on-site sales offices.
Buyers, sellers, and developers who work with Erica appreciate her professionalism and dedication to their best interests.
Erica's upbeat disposition is a reflection of how happy she is to have found her home at Cantor and Pecorella.
To learn more, visit Ariana Meyerson and Erica Miller Masiello's Haute Residence profile: http://www.hauteresidence.com/member/ariana-meyerson-and-erica-miller-masiello
About Haute Living Real Estate Network (HLRN):
Haute Living Real Estate Network (HLRN) of Hauteresidence.com offers readers the most prominent directory of experienced realtors, brokers and luxury listings, and HLRN has grown to be the number one source for real estate news, residential developments, celebrity real estate news and more. Seeking an experienced interior designer? Hauteresidence.com is also home to Haute Design Network (HDN), a collective of celebrated interior designers that will help you decorate your new home or stage an active listing.
Access all of this information and more by visiting: http://www.hauteresidence.com