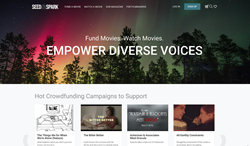 It is exhilarating to be able to offer the opportunities of traditional distribution but with a much more transparent, innovative, and forward-thinking philosophy. --Emily Best
Los Angeles, CA (PRWEB) March 03, 2016
Seed&Spark, the world's leading crowdfunding platform made just for independent film, has concluded a distribution arrangement that extends its distribution reach to millions of cable customers across the United States. Through a new agreement, major cable providers will now have access to Seed&Spark's library of excellent independent content for their Movies On Demand platforms, and will also be receiving films that have activated fan-bases behind them. Both crowdfunding site and now distribution player, Seed&Spark will nurture filmmakers through the entire filmmaking process: from successful crowdfunding to effective distribution.
With this new deal, transactional titles from Seed&Spark will be presented via most major cable video providers across the United States, including Comcast, Time Warner Cable, Cox Communications, Bright House Networks, and many other independent operators.
Seed&Spark's increasingly aggressive distribution option also includes their own transactional viewing platform. Now a film that elects to go through Seed&Spark's crowd-funding process is eligible for the distribution offering, in which a filmmaker is afforded not only the ability to reach millions of cable and digital subscribers, but the guidance of how to successfully reach an audience.
Movies from the Seed&Spark library will be delivered to major U.S. cable providers by leading distributor iN DEMAND, http://www.indemand.com.
"It is exhilarating to be able to offer the opportunities of traditional distribution but with a much more transparent, innovative, and forward-thinking philosophy," says Emily Best, CEO of Seed&Spark. "Through our partner iN DEMAND, our films can air on the biggest cable systems, allowing our filmmakers a fantastic reach into the marketplace and us to continue to bring our films to new audiences."
Seed&Spark's current library includes upcoming skateboarding documentary, I AM THALENTE featuring Tony Hawk, Kenny Anderson, and Lance Mountain to be released theatrically this April; THIS IS HAPPENING starring Cloris Leachman, James Wolk, and Mickey Sumner; and Sundance director Meera Menon's first film, FARAH GOES BANG.
About Seed&Spark
Seed&Spark is a crowdfunding and streaming ecosystem for independent filmmakers and film lovers with the highest crowdfunding success rate in the industry – 84%! Every time an audience member supports the making of a moving picture project (funding, following, sharing) they earn "Sparks" which can be redeemed to watch movies on the streaming platform. Supporting films lets you watch more films: It's the new ecosystem for filmmakers & audiences! Seed&Spark also published a semi-annual print magazine for film audiences, Bright Ideas, featuring the new and dangerous voices of truly independent cinema.
For more Information, go to http://www.seedandspark.com/
Facebook: https://www.facebook.com/seedandspark
Twitter: http://www.twitter.com/seedandspark