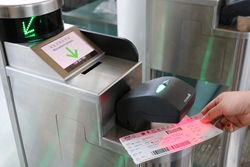 Being certified by TravelSky emphasizes both a technical alignment as well as a partnership that will see our corporate expertise aiding the Chinese aviation market in building up passenger self-service that meets global standards. Hu Nan, Boon Edam China
Lillington, NC (PRWEB) March 02, 2016
Beijing, China, 02 March 2016—The Chinese airport industry is growing rapidly and to keep up with demand, airports are looking at automated self-service solutions to optimize both capacity and the passenger experience. As the leading provider of information technology in the Chinese aviation market, TravelSky plays an important role in the promotion and acceptance of self-service solutions for the industry.
The TravelSky certification reassures airports working with TravelSky information services that Boon Edam's Airport Swinglane entrances meet the high international standards of the industry. This includes the guarantee that our entrances will work flawlessly with the software systems they have installed to deliver reliable operation and an optimal passenger experience.
Aligned Vision for Global Aviation Standards
TravelSky aims to be a leading provider of information technology services and to be known as a world-class company with international competitiveness. This cooperation with Boon Edam will help regulate and professionalize the Chinese aviation market and align it with strict international industry standards.
Hu Nan, Business Development Manager, Boon Edam China, said, "Being certified by TravelSky emphasizes both a technical alignment as well as a partnership that will see our corporate expertise aiding the Chinese aviation market in building up passenger self-service that is of a global standard. We are excited about working with our new trusted platform partner."
Passenger Experience
The Chinese aviation market is growing rapidly, with more and more people being able to travel by air both domestically and internationally. Particularly for those passengers, new to air travel, the experience at the airport is stressful due to strict deadlines, a busy and unfamiliar environment and most importantly, a lack of control of their experience. Solutions such as self-service boarding gates and pre-screening security gates give back control to the passenger and help in reducing stress levels. The certification of Boon Edam's Airport Swinglane ensures these advantages become available at Chinese airports as well.
Visit http://www.boonedam.com/markets-and-solutions/airports to learn more on Boon Edam's Airport solutions.
For Further Information, Please Contact:
Tracie Thomas
Marketing Manager
T 910 814 8113
E tts(at)boonedam(dot)us
For Media Queries, Please Contact:
Bruce Doneff
Public Relations
T 843 476 3022
E doneff(at)verizon(dot)net
About Royal Boon Edam
With work environments becoming increasingly global and dynamic, the entry has become the center of activity in and around many buildings. As the importance of the entry as a mobility hotspot increases, the demands we put on managing the passage of people through them grow. Royal Boon Edam is a global market leader in entry solutions. Headquartered in the Netherlands, with 140 years of experience in engineering quality, we have gained extensive expertise in managing the movement of people through office buildings, airports, healthcare facilities, hotels and many other types of buildings. We are focused on providing an optimal experience for our clients and their clients. By working together with you, our client, we help determine the exact requirements for the mobility hotspot in and around your building and develop a solution that is customized for you in three key areas: sustainability, security and service. You can find more news about Boon Edam on http://www.boonedam.us/newsroom.