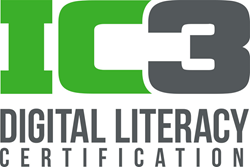 Salt Lake City, Utah (PRWEB) March 02, 2016
Certiport (http://www.certiport.com), a Pearson VUE business, the leading test delivery solution provider for the global workforce and academic markets, today announced the release of the IC3 Digital Literacy Certification Global Standard 5 (GS5). IC3 is refreshed regularly to remain relevant in an ever evolving world of technology, and GS5 delivers a comprehensive solution for learning how to succeed in any environment that requires the use of computers, devices or the Internet.
"Truly everyone can benefit from IC3 certification- it includes concepts that apply to almost any school or career pathway," said Aaron Osmond, general manager, Certiport. "IC3 is the ideal solution for any student or jobseeker looking to validate their digital skills and improve their academic or work performance."
Like its predecessors, IC3 GS5 is comprised of three individual exams, all of which must be completed to earn the IC3 certification: Computing Fundamentals, Living Online, and Key Applications. The Global Digital Literacy Council, made up of educators, industry experts and government officials, ratified the new GS5 standards to ensure it is made up of the most relevant foundational computing skills for today's academic and business environments.
Updated content in the IC3 GS5 certification exam includes proficiency in:

Mobile devices
Cloud computing
Calendaring
Social media
Online Conferencing
Streaming
Media Literacy
Endorsed by the International Society for Technology in Education (ISTE) and approved by the American Council on Education (ACE) for college credit, IC3 is delivered worldwide exclusively by Certiport and Certiport Authorized Partners. With a suite of products including practice solutions, assessment tools and certifications, IC3 is the right program to ensure that students and employees are prepared to succeed in a technology-based world.
For more information watch a video on how to "Go Farther with IC3" and visit http://www.certiport.com/ic3.
About Certiport
Certiport, a Pearson VUE business, is the leading provider of certification exam development, delivery and program management services delivered through an expansive network of over 14,000 Certiport Authorized Testing Centers worldwide. Certiport manages a sophisticated portfolio of leading certification programs including: the official Microsoft Office Specialist certification program, the Microsoft Technology Associate certification program, the Microsoft Certified Educator program, the Adobe® Certified Associate certification program, the Autodesk Certified User and Autodesk Certified Professional certification programs, the Intuit QuickBooks Certified User certification program, and the IC3 Digital Literacy certification. Certiport reliably delivers over three million tests each year throughout the secondary, post-secondary, workforce, and corporate technology markets in 148 countries and 26 languages worldwide. For more information, please visit http://www.certiport.com or follow Certiport on Twitter at http://www.twitter.com/certiport.
"Certiport" and "IC3" are registered trademarks of NCS Pearson, Inc. in the United States and other countries. The names of actual companies and products mentioned herein may be the trademarks of their respective owners.