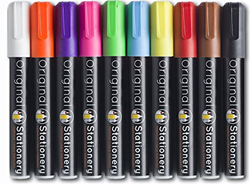 "Customers will have access to a very versatile tool that will enable them to be artistic in a wide range of settings. So whether you want to create an intricate window display or just fancy doodling little love notes on the fridge, or pens will delight."
(PRWEB UK) 17 March 2016
Stroud, Gloucestershire: Henry David Thoreau once said, 'This world is but a canvas to our imagination.' Now, thanks to Original Stationery Ltd.'s new range of Chalk Markers, all of us will be able to bring a little bit more colour to our surroundings.
"We've designed these marker pens to be very flexible in their usage," said Jane Anderson, Spokesperson, Original Stationery. "Customers will have access to a very versatile tool that will enable them to be artistic in a wide range of settings. So whether you want to create an intricate window display or just fancy doodling little love notes on the fridge, or pens will delight." 
Each set of Chalk Markers contains 10 unique colours: brown, black, white, green, pink, yellow, orange, blue, red and purple. "Our pens are designed to write on any non-porous surface. That's surfaces such as glass, plastic, and metal." said Anderson. "They are ever so much fun and couldn't be simpler to use. When you want to remove any of your drawings, you can simply wipe them away with a damp cloth."
The marker pens can be used in commercial premises, such as on blackboards in bars and menus in restaurants. They are also great education aids; many teachers have brought them to their classrooms and have found them to greatly increase student engagement. "What I love about these markers is that they not only work on the whiteboard but on the kids desks as well. I leave colourful study notes, and my pupils think they are great. The markers help me to engage with each child on an individual level," Alys Murray, Primary School Teacher.
As to what makes Original Stationery Ltd.'s latest release different from other products on the market, Anderson noted that their Chalk Markers are filled with 8 grams of vibracolour™ pigment, an ink specially formulated to add longevity and increase colour intensity. "The difference is remarkable," said Anderson. "Your creations will really stand out."
For more information, or to purchase the product, please visit: http://www.amazon.co.uk/dp/B01848DWR2