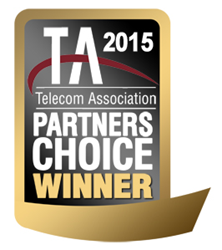 Our performance shows that we have been listening to what customers are looking for, and that our products are bringing value not only to our customers but also to our sales partners.
LOS ANGELES, CA (PRWEB) March 03, 2016
AireSpring, a provider of cloud communications and managed connectivity solutions, announced today that it has been honored with nine industry awards from the Telecom Association, a professional membership organization of telecom and technology consultants, agents, brokers and sales partners. The awards were determined by validated 2015 reviews from the 3,800 Telecom Association members. AireSpring was selected as the 2015 Partners Choice Award winner in the following categories: Wholesale – Data, Wholesale – LD, Call Center (Carrier, Software, Equipment, Consulting), Data – MPLS Domestic, and Hosted VoIP – Metaswitch. Additionally, AireSpring was honored as a Top 5 Provider of choice in: SIP Trunks – Domestic, CLEC National, and Data – Reseller. AireSpring was also chosen as a Top 5 Provider for Call Center – Hosted for its AireContact Cloud Contact Center Solution.
Selection as a Partner's Choice Award winner in so many categories showcases AireSpring's long term commitment to technology solutions, as well as dedication to customer service excellence. "Our association members are heavily experienced technology industry consultants and channel sales partners that have compared all the best and affordable vendors against one another before recommending one or two to their business clients who view them as trusted advisors", stated Telecom Association's Executive Director, Dan Baldwin. "They know which vendors to watch out for and which ones to recommend, so having them choose AireSpring so many times is a sign of proven trust and reliability."
This is not the first time that AireSpring has been honored by the Telecom Association, and it's not by chance that AireSpring was honored again in 2016. While business end users are critical of telecommunications products and services, the independent sales partners and reviewing members of Telecom Association are even tougher to please. "Customers are cautious, but Telecom Association members are even more so", stated AireSpring's CEO, Avi Lonstein. "We've designed our products and solutions to hold up to the scrutiny of the strictest audience – telecom and technology sales partners. Our 2015-2016 performance shows that we have been listening to what customers are looking for, and that our products are bringing value not only to our customers but also to our sales partners."
About AireSpring
Headquartered in Los Angeles, AireSpring is an award-winning provider of cloud communications and connectivity solutions serving thousands of businesses nationwide. AireSpring provides fully managed and connected end-to-end, next-generation solutions for multi-location enterprise customers, including Cloud Contact Center, Unified Communications, Business VoIP Phone Systems, SIP Trunking, MPLS, Business Continuity, and Internet. AireSpring's solutions are offered through a diversified network of channel partners that includes distributors, master agents, managed service providers, and value added resellers. AireSpring's services are delivered over its revolutionary nationwide MPLS Mesh network, providing customers a fully integrated, end to end solution from a single vendor.
AireSpring has received numerous industry awards for "Product of the Year," "Best Telecom Deal," "Best in Show," and "Top Channel Program". AireSpring is privately held, diversified, debt-free, and renowned in the industry for delivering a broad range of innovative cloud communications and connectivity solutions at competitive rates. To find product information or to become an AireSpring partner or agent, please visit http://www.airespring.com or contact us at 888-389-2899.
About Telecom Association
Founded in 1996, Telecom Association is a professional membership organization of 3,800 individual members and over 50 telecom and technology vendors that help businesses with their telecom, Internet, data network and technology integration needs. For more information about Telecom Association please contact Dan Baldwin, Executive Director 31500 Grape Street #3-307 Lake Elsinore, CA 92532 (951) 251-5155, Dan@TelecomAssociation.com