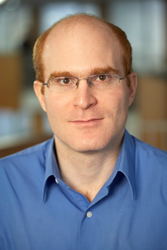 New York, NY (PRWEB) March 03, 2016
Cornerstone Research, a leading provider of economic and financial consulting and expert testimony, announced today that Professor Olivier Toubia has affiliated with the firm. He is the Glaubinger Professor of Business at the Columbia Business School of Columbia University.
"Olivier has established a reputation as a key expert on consumer decision making and preference measurement, using conjoint analysis and other advanced statistical methods," said Cornerstone Research President and CEO Michael E. Burton. "He contributes enormously to our clients' matters requiring expertise on cutting-edge marketing research techniques."
Professor Toubia has served as an expert witness and has testified in deposition and in arbitration. He designs and conducts consumer perception and conjoint surveys and uses text-mining techniques.
Professor Toubia researches product innovation, marketing research methods, preference measurement, and behavioral economics. He focuses on a variety of products and industries, including high-technology devices such as smartphones; and on consumer packaged goods, medical equipment, and social networks. His research has twice won the John D.C. Little Award for best marketing paper from the INFORMS Society for Marketing Science, and he has been named several times as a finalist for its Long Term Impact Award. He is an associate editor of Management Science, Marketing Science, Operations Research, and the Journal of Consumer Research.
About Cornerstone Research
Cornerstone Research provides economic and financial consulting and expert testimony in all phases of complex litigation and regulatory proceedings. The firm works with an extensive network of prominent faculty and industry practitioners to identify the best-qualified expert for each assignment. Cornerstone Research has earned a reputation for consistent high quality and effectiveness by delivering rigorous, state-of-the-art analysis for over 25 years. The firm has 600 staff and offices in Boston, Chicago, London, Los Angeles, Menlo Park, New York, San Francisco, and Washington.
Please visit Cornerstone Research's website for more information about the firm's capabilities in economic and financial consulting and expert testimony.
Twitter at @Cornerstone_Res