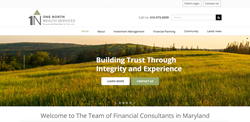 We are very proud of the new website. Not only does it provide a useful, informative portal for our clients and prospects, it allows everyone to learn about what 1 North stands for as well
(PRWEB) March 16, 2016
Annapolis MD (February 2016) Jay Middleton, ChFC, and Jim Brennan, CFP, Principals of 1 North Wealth Services, LLC, located in the Annapolis Exchange on Jennifer Rd in Annapolis, MD, recently announced the launch of the firm's new, full-featured website and corporate brand redesign.
According to Jay Middleton, Principal, "The look of the site is more closely aligned with the company's strategic vision of the future. It offers a clean, state of the art design with its easy-to-navigate functionality and content-rich site experience."
1 North Wealth is an investment advisory firm offering fee-only financial planning and investment advice. The firm has worked with individuals, families and business owners seeking to achieve their financial goals and visions in the Annapolis area and along the East Coast for over 30 years.
"We are very proud of the new website. Not only does it provide a useful, informative portal for our clients and prospects, it allows everyone to learn about what 1 North stands for as well," stated Mr. Brennan.