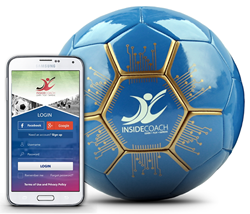 The success of the campaign validates that we're fulfilling the demand for modern digital coaching tools to analyze performance with data
Salt Lake City, UT (PRWEB) March 04, 2016
InsideCoach, the smart technology inside of a soccer ball, has exceeded its crowdfunding goal with weeks remaining in its campaign on Kickstarter.
InsideCoach has now raised over $30,000 with over 120 backers signing up to pre-order the smart soccer ball that tracks metrics, allowing players and coaches to see exactly how they're performing, making it the smartest soccer ball in the world.
"We're very happy and thankful for the support we've received thus far," said InsideCoach creator Nicolas San Juan. "The success of the campaign validates that we're fulfilling the demand for modern digital coaching tools to analyze performance with data."
This game changing ball will forever alter the way players' analyze their performance and improve their skills. It's disguised to look, feel and behave like a normal soccer ball, but looks can be deceiving. Inside it's loaded with tech that provides new forms of data to help teach players and coaches.
Never before has such crucial soccer data been collected. Once a guessing game, now players can determine exactly how hard they kick the ball, the amount of spin, distance, number of passes and touches they make. InsideCoach saves the data to display on a mobile app in real time. Coaches can now show their players exactly how they're performing and help them improve by providing training tip videos and tracking their progress.
For those looking to work on their skills at home, InsideCoach is like having a private coach 24/7. Challenge teammates using their own InsideCoach soccer ball and compare and share results in real time, in a cloud based system. At practice, receive real time coaching cues to develop skills and agility.
The InsideCoach soccer ball weights, bounces and rolls like any other soccer ball. InsideCoach will also have an open architecture where developers will have access to its APIs to create third party Apps.
Other features include:
-Qi wireless recharging pad
-Battery life for up to 4 hours of playing
-Wi-Fi enable for long range data transfer
-Molded polyurethane material with multi-layer backing for shape retention
-Latex bladder
-Size 4 for ages 8-12
-Size 5 for ages 12 and up
-Outdoor/Indoor weather and condition resistances
InsideCoach hi-tech soccer balls are only $99 on Kickstarter and run until March 28, 2016
For more information, and to pre-order InsideCoach soccer balls visit:
https://www.kickstarter.com/projects/2109568854/insidecoach-smart-soccer-ball-trainer
About InsideCoach
In this modern age of technology, outdoor sports have become less popular, while the number of people playing video games grows each year. Our goal at InsideCoach is to try and help motivate today's youth to get active again by having fun playing soccer. We've integrated soccer with the virtual video game world by "gamifying" the soccer ball. With InsideCoach technology, kids can stay connected with their friends and challenge each other wherever they are through a mobile app. We want this to be truly like a video game in action. InsideCoach soccer ball...get your kicks like never before.