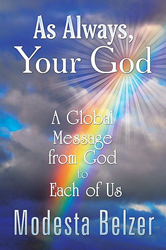 "This exceptional book is not only a fascinating read, but delves into the subjects we all have questioned." - Robert Fletcher, CEO of Strategic Book Publishing and Rights Agency
(PRWEB) March 10, 2016
The first book by medium Modesta Belzer "As Always, Your God: A Global Message from God to Each of Us" is about the nature of God and the development of the human soul as experienced through many lives.
Her next book as a scribe is also by God and will discuss reincarnation and her own earlier lives. As Always, Your God was dictated by God via automatic writing and clairaudience. In it are the answers to the questions only God can answer.
What is life about? Where does man come from? What is the soul? Is there such a thing as true love? Why is life so tough? What or who is God? Why are there wars? Does God love everyone? What happens when people die? Why is there so much suffering and unfairness? Is there only one true way to talk to God? Why are there different races? Is there a hell? Is sex a sin? Does a loving God punish? Is reincarnation fact or fiction?
"This exceptional book is not only a fascinating read, but delves into the subjects we all have questioned. We are pleased to announce its release," said Robert Fletcher, CEO of Strategic Book Publishing and Rights Agency.
Watch the video at: https://youtu.be/tpQp-5QweG0
About the Author: Modesta Belzer was born in the Netherlands. She emigrated to South Africa when she was 19 and worked as a radio announcer, teacher, and hospice caregiver. She also developed as a medium and had her first direct contact with God in 2001. "As Always, Your God" is her first channeled book.
AS ALWAYS, YOUR GOD: A GLOBAL MESSAGE FROM GOD TO EACH OF Us (ISBN: 978-1-62857-423-4) is now available for $30.50 and can be ordered through the publisher's website:
http://sbprabooks.com/ModestaBelzer or at Amazon.com or Barnesandnoble.com.
WHOLESALERS: This book is distributed by Ingram Books and other wholesale distributors. Contact your representative with the ISBN for purchase. Wholesale purchase for retailers, universities, libraries, and other organizations is also available through the publisher; please email bookorder@sbpra.net.