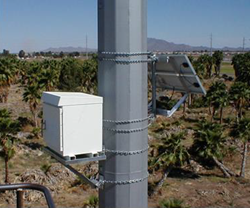 "NRI's solution offered a self-powered package with the ability to remotely monitor the existing obstruction lights, providing a reliable FAA compliant system. This solution overcame several design obstacles and constraints." Daryl Chipman of SRP
Phoenix, Arizona (PRWEB) March 08, 2016
NRI, a renewables pioneer, expanded its traditional line of energy storage products last year with the launch of their solar-powered obstruction lighting systems line. The lights, used in commercial applications including wind turbines, electric transmission towers, telecom facilities, and airport lighting, use stored solar energy to power FAA beacon lighting. Unlike traditional beacon lighting, the NRI SOLS do not require the utility to construct expensive line extensions to power the beacons from the local grid, nor is there a recurring cost to power the lighting units. The beacons operate for 10 years at which point the batteries are recycled and replaced. The NRI SOLS units were specifically designed to support obstruction lighting applications in compliance with new FAA guidelines concerning lighting and an ever-growing interest in renewable energy solutions from the public and utilities.
"NRI's solution offered a self-powered package with the ability to remotely monitor the existing obstruction lights, providing a reliable FAA compliant system. This solution overcame several design obstacles and constraints." commented Daryl Chipman, a Senior Engineer from SRP. SRP's website highlights that "SRP has established a goal that by FY20, SRP will meet a target of 20% of its expected retail energy requirements with sustainable resources. Among them are a diversified resource mix of wind, geothermal, large hydro and low-impact hydro, landfill gas and solar."
Jay Bellows, NRI's Chief Executive Officer remarked, "We are very pleased that our SOLS product has served well in offering a high quality solution to the obstruction lighting market. It's very apparent that the world's energy storage needs are wide ranging, from smaller Kilowatt solutions like these to our multi-megawatt solutions. Whether they be grid tied or off grid, we're happy that we are able to provide solutions for this rapidly growing market".
About Northern Reliability, Inc.
Northern Reliability (http://www.northernreliability.com) ("NRI") is an engineering and technology firm that designs and produces stand-alone electric power and energy storage systems which deliver reliable and continuous power to businesses and communities. NRI systems provide renewable energy for off-grid applications, reduce dependence on fossil fuels, and provide energy security and independence from conventional energy sources.
About Salt River Project
Salt River Project ("SRP") is a community-based nonprofit utility. It is the third-largest public power utility in the nation, serving more than 1 million electric customers in the greater Phoenix metropolitan area. SRP is also the largest provider of water to the greater Phoenix metropolitan area, delivering about 800,000 acre-feet annually