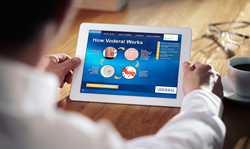 New York, NY (PRWEB) March 10, 2016
ESG Health, a division of Envisage Solutions Group with offices in New York, South Carolina, Denver & Connecticut, has earned Level 4 Veeva CRM Multichannel certification from Veeva Systems. Achieving this certification demonstrates ESG Health's competency and expertise in developing content for Veeva's multichannel product suite.
To date, only four United States based Veeva Agency Partners have achieved Level 4 certification, Veeva's highest level of agency achievement.
"We felt it was important to jump on this opportunity to differentiate ourselves from other Veeva Agency Partners," said Brian Ableman, Founder and President of ESG Health. "We have built a team with a great deal of experience developing Veeva CRM multichannel content enabling our clients to reach their audience through multiple mediums and achieve success in this highly regulated environment. I think it's fair to say our experience and expertise helps pharmaceutical/life science firms maximize their Veeva investment and reach their goals."
ESG Health's team has worked with a number of healthcare/life science firms, including Amgen, AstraZeneca, Astellas, Depomed, McNeil, MERZ, Shire, and Upjohn.
Added Paul Schell, Co-Founder and COO, "Our technological expertise is not the only thing that differentiates ESG Health. We believe our strategic thinking and creativity, combined with technology, makes us the ideal Veeva Agency Partner."
About ESG Health
ESG Health is a certified Veeva Agency Partner with roots in both brand development and strategy, and educational development and publishing. ESG Health is built to fulfill eDetailing needs and help pharmaceutical/life science firms efficiently launch powerful CLM presentations that follow compliance as they communicate with their desired audience. Our expertise includes marketing, advertising and development solutions.
For more information, visit http://www.esghealth.com
###