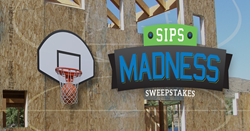 Puyallup, Washington (PRWEB) March 14, 2016
To celebrate the excitement of the college basketball play-offs while educating building professionals on the advantages of using Structural Insulated Panels (SIPs), Premier SIPs is hosting its "SIPs Madness" sweepstakes. In a nod to the season, participants will complete brackets that match-up the various benefits provided by SIP construction for homes and commercial buildings. Eligible participants can enter via the "SIPs Madness Sweepstakes" tab on Premier SIPs' Facebook page. Prizes include $50, $75 and $100 gift cards and a grand prize of one iPad Mini 4®, all to be awarded in random drawings.
"From exceptional energy savings to quicker construction, SIPs help building professionals do their jobs better," said James Hodgson, General Manager for Premier SIPs. "This sweepstakes is an opportunity for them to have a little fun with our product, and possibly win some cool prizes."
The SIPs Madness sweepstakes is open to design professionals, contractors and building material dealers in the U.S. from March 14 to April 3, 2016. See the official rules for details.
About Premier SIPs by Insulfoam
Premier SIPS by Insulfoam leads the construction industry in the research, development and manufacturing of high-performance, energy-efficient structural insulated panels (SIPs) and related materials. As one of North America's largest SIP manufacturers, the company is a leader in working with design professionals, contractors and code officials on innovative SIP applications. For more information about Premier SIPS, call (800) 275-7086 or visit http://www.premiersips.com.