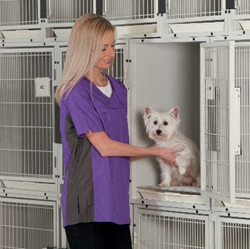 Greensboro, NC and Seattle, WA (PRWEB) March 09, 2016
In 2015, PetEdge® Dealer Services, the leading supplier of dog and cat accessories for pet specialty retailers and professional grooming products for pet care professionals, responded to a need for additional flea and tick solutions to help consumers battle ever-growing pest control challenges. Retailer response to the Insect Shield for Pets collection was immediate, as the extensive assortment provides a total solution for pet owners to fend off bugs everywhere – at home, outdoors, in the car, or when traveling. For 2016, the product offering expands further to include more protective products as well as an assortment custom-designed specifically for pet professionals. Insect Shield for Pets products are currently available in 5000+ retail locations nationally and sold internationally throughout Europe, South America and Asia.
New for 2016: Insect Shield for Pet Professionals
All Insect Shield for pets products feature built-in, EPA-registered insect protection proven to repel a variety of insects including fleas and ticks that can carry dangerous diseases such as Lyme. New for 2016 are the Insect Shield V-neck Tops offering comfort and protection for groomers and other pet professionals. The tops feature breathable nylon construction and short sleeves for maximum airflow. Also new are the Insect Shield Kennel Mats providing a comfy, bug-free protection zone. The new Insect Shield Paisley Bandanas are the perfect add-on finishing touch for any grooming job. Each item offers proven Insect Shield protection that is effective for the expected lifetime of the product.
New Breathable Mesh Tanks and Reversible Sling Carriers
The new performance Mesh Tank Tops, made of lightweight, breathable fabric, are ideal for warm weather outdoor pursuits with pets when insect protection is paramount, yet the spring/summer heat is on. For those needing to safely and securely transport small pets—and protect them from dangerous disease-carrying insects— the Insect Shield® Reversible Sling Carriers are a new must-have.
"The Insect Shield for Pets line has been our most successful product launch to date. Insect Shield technology resolves a major problem for consumers – how to conveniently and effectively protect their pets, themselves and their homes from insects. Insect Shield human and pet apparel protects against a variety of insects including mosquitoes that can carry dangerous diseases such as Zika virus, malaria and more. Our retailers are having enormous success with the collection and are excited to take advantage of line expansions in order to keep pets and owners protected," says Trina Bicknell, PetEdge® VP of Sales.
For a preview of the Insect Shield for Pets collection and complete dealer listing visit:
http://www.insectshieldforpets.com
For more information about how Insect Shield technology works, visit:
http://www.insectshield.com
Digital Media Kit:
http://bit.ly/InsectShieldLifestyle
About PetEdge & Insect Shield for Pets:
Founded in 1956, PetEdge is the leading provider of dog and cat products to pet specialty retailers and pet care professionals. To better meet the demands of an evolving customer base, PetEdge launched their Dealer Services division in 2004, providing independent retailers with unprecedented access to premium pet products and merchandising support—all at manufacturer-direct pricing. Today, PetEdge brands like Zanies®, Grriggles®, Savvy Tabby®, ClearQuest®, and Zack & Zoey® are consistently ranked #1 in key categories like dog apparel, dog sanitation, grooming tools, and cat toys. Their vast selection includes more than 10,000 discount pet products from 20 exclusive brands, as well as products from industry innovators such as Kong®, Greenies®, Wahl®, and more. The Insect Shield® for Pets collection includes blankets, reversible beds, exercise pens, cots, cargo seat covers, premium tees, lightweight hoodies, safety vests, bandanas, and neck gaiters—all with built-in bug protection. MSRP range $9.99 to $139.99. Visit, http://www.insectshieldforpets.com
About Insect Shield® Technology:
Insect Shield Repellent Apparel and Gear are revolutionary products designed to provide long-lasting, effective and convenient personal insect protection. The durable protection provided by Insect Shield is the result of years of research and testing. In July 2003, Insect Shield Repellent Apparel was registered by the United States Environmental Protection Agency (EPA). Insect Shield Technology is utilized by leading outdoor, work wear, equestrian, lawn/garden/hardware brands and by International relief organizations across the globe to provide effective protection against insects and the diseases they can carry. Insect Shield is an approved vendor of the US Army and US Marine Corps. Insect Shield is appropriate for use by the entire family with no restrictions for use. Visit, http://www.insectshield.com
###