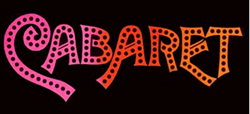 We need to do "Cabaret" because the students need to learn about what happened in Europe eighty years ago. Seth Cohen, Director
Rolling Hills Estates, CA (PRWEB) March 10, 2016
"Cabaret" presented by Palos Verdes Peninsula High School will perform March 11, 12, 18, 19, 25, 26 @ 7pm and March 13 & 20 at 2pm at the school's Performing Arts Center (PAC), 27118 Silver Spur Road, Rolling Hills Estates, CA 90274. Tickets can be reserved by emailing pendramatickets(at)cox(dot)net, or at the door starting 1 hour before each show.
Come Hear the Music Play…..
The award winning, internationally acclaimed Palos Verdes Peninsula High School Drama Department opens Kander & Ebb's Cabaret this Friday, March 11, 2016. Set in 1931Berlin as the Nazis are rising to power, Cabaret is based on John Van Druten's 1951 play I Am a Camera, which was adapted from the short novel Goodbye to Berlin (1939) by Christopher Isherwood.
The cast includes Brandon Halvorsen as the Emcee, Nina Donville as Sally Bowles, Austin Kelly as Cliff Bradshaw, Elizabeth Van Gieson as Fraulein Schneider, Ryan Daar as Herr Schultz, Katherine Petts as Fraulein Kost and Joshua Barri as Ernst Ludwig.
Seth Cohen, director, explained the importance of teenagers performing "Cabaret" in this era to Dr. Carol Francis Talk Radio: "These are dangerous times we live in. America has witnessed atrocities in other nations for nearly 250 years, and the USA has long stood as a place people could turn to for a safe haven. We stand at the precipice of a new America, one where we may be closing our doors and no longer accepting the 'tired, the weak and the poor, yearning to breathe free'. This is why we are doing "Cabaret". First, it's a darn good show with some great music and choreography. Second, we need to do "Cabaret" because the students need to learn about what happened in Europe eighty years ago. We can appreciated how the events of the Weimar Republic have happened in different forms again and again since that time as well. Chancellor Hitler was a charismatic speaker, leading the National Socialist Party to apparently correct economic turmoil and restore Germany's greatness. He was a leader that was trusted by many of Germany's citizens, even his eventual victims. But, other events would unfold to devastate a world. It is important for students and adults to see "Cabaret" so they are reminded about what has happened and remember to be aware that what is happening all around them may be crucial for us to stop or change just as it was then. We must remain aware and conscientious so that it never happens again. No where. We need to help ensure that nothing like this ever happens here in America."

Seth Cohen, Palos Verdes Peninsula High School, Director & Drama Teacher
About Palos Verdes Peninsula High School Drama: Palos Verdes Peninsula High School's Drama Department offers a four year theater curriculum, five main stage productions per year, and oversees the student-run Drama Club which provides numerous additional performance opportunities, including the annual Student Production and a Comedy Sportz High School League team (competitive improv). Peninsula Drama is affiliated with the International Thespian Society, the only National Honors organization for high school theater students. PVPHS Drama was officially selected by the American High School Theater Festival to perform at the 2015 Edinburgh Fringe Festival in Edinburgh, Scotland. They have won numerous awards at the Drama Teachers Association of Southern California (DTASC) Festivals, and California Educational Theater Association (CETA) Festivals and Jerry Herman Awards.