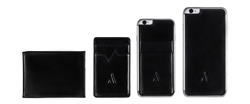 Los Angeles, CA (PRWEB) April 08, 2016
Alveant today announced the launch of its website, http://www.alveant.com, featuring Hyper Quality™ leather goods made in its Los Angeles factory. Alveant products have clean designs, impeccable craftsmanship, and premium materials like Italian leather and genuine alligator. The lineup includes the iPhone Leather Veneer, iPhone Card Case, iPad Sleeve Case, Ultra Slim Wallet, and Card Case.
The Alveant iPhone Veneer is a leather veneer that adds a layer of style and protection to the iPhone. It features distinctive perimeter stitching and hand-painted curved edges that complement the contours of the iPhone. The iPhone Veneer also has a repositionable adhesive that can be attached to the iPhone and removed without leaving any residue.
The Alveant iPhone Card Case is a combination phone case and wallet that's made for a night out or traveling light every day. It's specially contoured to fit two to three credit cards and maintain a thin profile. The iPhone Veneer and iPhone Card Case are available in Italian leather and genuine alligator for the iPhone 6s and 6s Plus as well as the iPhone 6 and 6 Plus.
The Alveant iPad Sleeve Case is a luxury case for the iPad. It features an Italian leather exterior, foam padding, and an interior lined with soft suede. The molded shape hugs the iPad and the sides taper to 0.15 inches for a sleek look. The iPad Sleeve Case is available for the 9.7-inch iPad Pro, iPad Air 2, and iPad Mini 4.
The Alveant Ultra Slim Wallet is the company's refinement of the traditional wallet. It's carefully engineered to be highly functional and slim. The Ultra Slim Wallet has the capacity to hold up to eight credit cards, four business cards, and twenty bills. The Ultra Slim Wallet is available in Italian leather and genuine alligator.
The Alveant Card Case is a sophisticated and thin card holder. It features a compact vertical design with rounded corners that holds up to six cards and feels comfortable in a pocket. The Card Case is precisely crafted with hand-folded edges on a precision cut substrate. The Card Case is available in Italian leather and genuine alligator.
Alveant is a luxury leather goods manufacturer. The high quality of its products is derived from a combination of high-tech manufacturing techniques and the artisanship of its highly skilled team. Alveant leverages tools like Computer Aided Design, 3D printing, and CNC machining in its manufacturing process. The in-house manufacturing team also has decades of experience working with leather goods and a commitment to excellent fit and finish. All Alveant products are designed and made in Los Angeles.