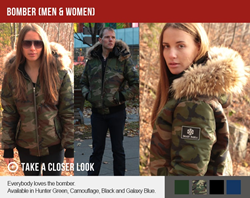 Not only does it address technology needs, but it finally recognizes the need to incorporate all other winter accessories into one single integrated parka
Toronto, ON (PRWEB) March 11, 2016
Smart Parka, the world's first complete winter coat, is continuing to gain momentum in its remarkably successful crowdfunding campaign with over $1.6M CAD ($1.17M USD) raised with two weeks remaining in its Kickstarter campaign.
With over 4,500 backers, the Smart Parka has surpassed its initial goal of $30,000 (CAD) by 5411% and is now the most funded live campaign in the Kickstarter design category.
"We are extremely grateful for all the support we have received during our campaign," said Jamil Khan, founder of North Aware Inc. "It shows there's a strong demand for a better winter coat, and the success of our campaign validates that we have met that demand."
Smart Parka features built-in gloves that allow users to operate touch devices, a built-in scarf, tech pockets for smart phones and tablets, a length extension, removable lining for two different temperature ranges, and a hat pocket, along with other features.
Smart Parka comes in four different styles for women and three different styles for men.
"We have something to fit every personality," added Khan. "Not only does it address technology needs, but it finally recognizes the need to incorporate all other winter accessories into one single integrated parka."
North Aware is now planning manufacturing, growing its line of winter wear, and expanding into new geographic markets outside Canada and the US.
The final product is slated for delivery in August 2016.
For more information on Smart Parka and to pre-order, visit: http://kck.st/1VnxALa
Smart Parka Media Kit (includes video, images and gifs): http://northaware.com/main/media
About North Aware: Started by Toronto software developer Jamil Khan in January 2015, North Aware's goal is to make people go out more in winter. The company aims to penetrate the winter wear market by combining fashion and function. North Aware launched its first Kickstarter, for the Smart Parka, in January 2016.