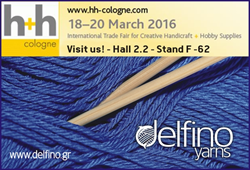 Delfino will be the only Hellenic company in the H&H Cologne trade fair that offers knitting yarns, accessories for knitting and fabrics for embroidery
(PRWEB UK) 15 March 2016
In just a few days, on March 18-20, the largest trade fair for creative handicraft and hobby supplies will take place at the Cologne fair grounds. 380 companies from 40 nations will be presenting the largest sector overview in the world on the themes of knitting, crocheting, sewing, embroidery and handicrafts to the international specialized trade.
In 2015, H & H Cologne attracted more than 14800 visitors from 74 countries, and this year it is expected that the number will reach another record high.
Delfino yarns is getting ready to welcome trade representatives, production companies and traders of fine yarns, knitting supplies and accessories, to whom the company will be showcasing its latest collection of fine products. Visitors will have the chance to have one-on-one meetings with company representatives and discover the large selection of products on display at a unique opportunity for experiencing both 'look' and 'feel.'
Delfino has been in the market for almost 70 years, since 1947, and has succeeded to become one of the largest producers of yarns and knitting solutions in the world. Delfino is the only Hellenic company that designs and produces yarns for the global market and will be the only Hellenic company in the H & H Cologne trade fair that offers knitting yarns, accessories for knitting and fabrics for embroidery. As a par excellence Hellenic company, with its initial roots in the aristocratic town of Chania in Crete, the company has always strived for quality and competence in a specialized trade that is governed by few.
Visit us at http://www.hh-cologne.com. Delfino will be at: Hall 2.2 Stand: F062
Visit http://www.delfino.gr for more information or call +30 210 3232565 (Athens Headquarters)
Owner: George Chatzidakis, +30 6944 543079.