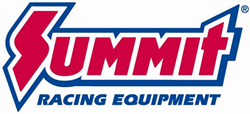 Tallmadge, OH (PRWEB) March 15, 2016
Summit Racing now carries Proform High Flow Mechanical Water Pumps. They offer up to 40 percent more flow than stock, allowing coolant to travel through the engine more quickly.
Engines modified with performance power-adders may run hotter than the OE spec. The motor's original water pump may struggle to meet the increased cooling demand. When paired with the proper radiator, a Proform water pump can significantly reduce engine operating temperatures.
Proform High Flow Mechanical Water Pumps feature cast aluminum housings, making them considerably lighter than the stock unit. Proform also uses heavy duty ball bearings on the impeller shaft to increase the water pump's service life.
Proform makes these water pumps for small and big block Chevy V8 in long and short styles. They come in either a natural or polished finish.
Summit Racing Equipment
http://www.SummitRacing.com
1-800-230-3030