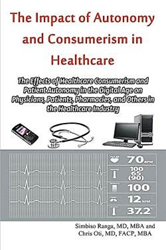 "This book touches on a topic dear to us all: our health. Whenever patients know more about the healthcare system, it creates a healthier situation for everyone." - Robert Fletcher, CEO of Strategic Book Publishing and Rights Agency
(PRWEB) March 28, 2016
This book empowers the consumer – known in the healthcare industry as the patient – by detailing the important changes in the industry and what they mean, not only for healthcare delivery, but for providers, suppliers, and patients.
Dr. Simbiso Ranga and Dr. Chris Oti skillfully guide readers through the maze that the system has become, and provide examples from their own practices. They comment on new healthcare developments, including the mushrooming urgent care centers and walk-in clinics, as well as how technological developments are constantly changing the game. They reflect on the challenges of opening up the healthcare infrastructure to the consumer, and raise issues concerning cyber security, privacy, and litigation.
The authors also attempt to predict the future in a chapter aptly titled "Prognosis."
What should patients know to live longer and healthier lives?
Watch the video at: https://youtu.be/qWGzNhbcfXE
About the Authors:
Simbiso Ranga, MD, MBA, is co-founder of Tru-Point Synergy Inc, an asset management company. He obtained his medical degree from the University of Zimbabwe and is a graduate of the Duke University Fuqua School of Business.
Chris Oti, MD, MRCP (UK), FACP, MBA, started his career in the United Kingdom healthcare system. He earned his medical degree at Kiev Medical Institute and a healthcare MBA from George Washington University. He is a member of the Royal College of Physicians of the United Kingdom and is a Fellow of the American College of Physicians.
"This book touches on a topic dear to us all: our health. Whenever patients know more about the healthcare system, it creates a healthier situation for everyone. We are thrilled to announce its release," said Robert Fletcher, CEO of Strategic Book Publishing and Rights Agency.
THE IMPACT OF AUTONOMY AND CONSUMERISM IN HEALTHCARE: THE EFFECTS OF HEALTHCARE CONSUMERISM AND PATIENT AUTONOMY IN THE DIGITAL AGE ON PHYSICIANS, PATIENTS, PHARMACIES, AND OTHERS IN THE HEALTHCARE INDUSTRY (ISBN: 978-1-63135-982-8) is now available for $45.95 and can be ordered through the publisher's website:
http://sbprabooks.com/SimbisoRangaandChrisOti or at Amazon.com or Barnesandnoble.com.
WHOLESALERS: This book is distributed by Ingram Books and other wholesale distributors. Contact your representative with the ISBN for purchase. Wholesale purchase for retailers, universities, libraries, and other organizations is also available through the publisher; please email bookorder@sbpra.net.