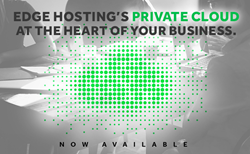 The fourth generation of private cloud was built with enterprise solutions in mind to provide them with what they want – high security, scalability, cost efficiency and compliance.
Baltimore, MD (PRWEB) March 15, 2016
Edge Hosting, an international provider of secure, scalable, dependable and compliant managed hosting services, announced today the launch of the fourth generation of CloudPlus Private Cloud Infrastructure for secure Windows and Linux application hosting. CloudPlus Private Cloud is at the heart of your business, providing a reliable infrastructure foundation allowing companies to focus on their business.
The fourth generation of CloudPlus Private Cloud boasts security so stringent that Edge Hosting was recently granted a FedRAMP Provisional Authorization by the Defense Information Systems Agency and the Department of Defense to host unclassified sensitive workloads. CloudPlus Private Cloud delivers a robust and secure FedRamp, HIPAA and PCI compliant IaaS and PaaS architecture for the most demanding business critical and enterprise solutions.
Benefits of CloudPlus Private Cloud:

Cost efficient – Significant cost savings at scale over dedicated and public cloud.
Flexible – Control blade density, scheduling and auto scaling of resources.
Compliant and Secure – Stress free compliance - SSAE16 SOC 2 Type II, FedRAMP, HIPAA HITECH and PCI.
Fully Managed – Leverage our team to manage just the IaaS, the OS or the entire application stack 24/7/365.
Personalized – Includes a dedicated Technical Account Manager that serves as an extension of your team.
"CloudPlus was built to eliminate the complexity required to host Enterprise and SaaS applications delivering high security, scalability, cost efficiency and compliance in one package," said Vlad Friedman, Founder and CEO at Edge Hosting. "Our mission is to simplify compliant business critical infrastructure and 24/7 operations enabling our customers to scale their business and bring them into new opportunities leveraging both our compliance and operations."
Edge Hosting's CloudPlus is one of the first managed cloud hosting solutions to be authorized for the Federal Risk and Authorization Management Program, or FedRAMP. CloudPlus simplifies the complex requirements of FedRAMP providing an approach to security assessment, authorization, and continuous monitoring for cloud products and services. The Provisional Authorization from the DoD allows Edge Hosting to expand the CloudPlus offering into the Department of Defense space and partner with Mission Owners (MO's) for secure, scalable cloud solutions.
About Edge Hosting, LLC
Edge Hosting delivers secure, scalable, dependable and compliant managed hosting solutions for public and private organizations nationwide. With over two decades of experience, Edge offers customized public, private, and hybrid cloud environments in addition to dedicated hosting and application management. Edge Hosting has one of the most secure compliant hosting solutions that include FedRAMP, PCI, SSAE 16, and HIPAA. For more information about making the switch to Edge Hosting, please visit http://www.edgehosting.com.