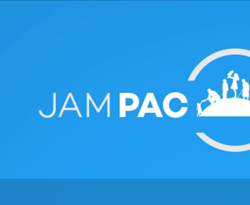 "Trump's behavior was inappropriate and calls into question his ability to be an effective representative of the people," said Beck. "We want to send a strong message to the candidates and to the voters by creating a new kind of super PAC for a new era."
Miami, FL (PRWEB) March 14, 2016
JAM PAC, a project of political action committee Do The Right Thing devoted to educating voters about 2016 Presidential candidate Bernie Sanders, has released its latest video in a series of bilingual public outreach efforts titled, "Proud Latinos for Bernie Sanders." The 2:26 film explores the key issues affecting the Hispanic community in the United States: education, minimum wage, safety, immigration, and employment. Uploaded to Facebook on March 12, the video already has over 23,000 views, available here: https://www.facebook.com/956863541063283/videos/956944347721869/
Do The Right Thing is the only truly progressive and independent grassroots super-PAC dedicated to restoring the voice of the people in government and reclaiming U.S. politics from the narrow interests of corporate America and the wealthy. It was launched by Miami lawyers Elizabeth Beck and her husband, Jared. Beck recently made national headlines after she was insulted by Republican presidential candidate and business mogul Donald Trump during a deposition for a lawsuit over a failed real estate project. According to the New York Times on July 28, 2015, when Beck excused herself during the hearing to pump breast milk for her newborn baby, Trump erupted and he called her "disgusting" during his tirade. The article can be found here: http://www.nytimes.com/2015/07/29/us/politics/depositions-show-donald-trump-as-quick-to-exaggerate-and-insult.html
"Trump's behavior was inappropriate and calls into question his ability to be an effective representative of the people," said Beck. "We want to send a strong message to the candidates and to the voters by creating a new kind of super PAC for a new era.
"We saw a void in the area of multimedia explaining Bernie Sanders' core campaign platform to Spanish-speaking voters," said Beck. "As our first video juxtaposed the candidates' disparate views on the disproportionate incarceration of African-Americans, the current video puts issues that matter most to Latinos in America." Beck continued, "We believe this Spanish-language video will make a vital contribution to the political discourse, and look forward to releasing more works by talented independent filmmakers as the election season continues."
The film was created by Ricardo Villalba, owner at Washington Digital Media, and Christopher Schrack. Ricardo, a native of Paraguay, has worked most of his adult life as a youth worker and advocate, and also works substance abuse counselor at a non-profit organization serving youth. Christopher has worked as a director, writer, cinematographer, and editor for the last 10 years. Together they formed Washington Digital Media to produce films that educate, affect change, and inspire others.
Villalba said the project pulls from his experience as a Youth Worker/Advocate as well as his personal experiences as an immigrant from Paraguay who came the U.S. when he was a teenager.
"The emphasis in this film is on the importance of family and what it means to be a proud Latino," said Villalba. "Several of the issues addressed by the presidential candidates will have a direct impact on family units across the country."
To read more about Ricardo Villalba please visit: https://www.linkedin.com/in/goricardo
For more about JAM super-PAC and to contribute, please visit:
Website: http://www.JamPAC.us
Facebook: https://www.facebook.com/JamPac-956863541063283/
Twitter: https://twitter.com/DTRTPac
YouTube: https://www.youtube.com/watch?v=gD5Mil-p_dE
Mailing Address:
Do The Right Thing Super PAC
12485 SW 137th Ave., Suite 205
Miami, Florida 33186
Phone: (305) 234-2060
Email: avocadosforjustice(at)gmail(dot)com