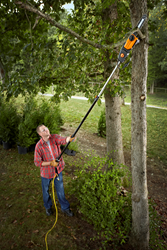 The WORX electric pole saw allows the operator to keep both feet on the ground while pruning low-hanging branches, trimming overgrown shrubbery or thinning out trees and bushes.
Charlotte, N.C. (PRWEB) March 16, 2016
The WORX® 8A, 10 in. Electric Pole Saw is the newest addition to the brand's popular line of electric chain saws. This 2-in-1 yard tool has a 10-foot reach and easily detaches from its extension pole for use as a light-duty chain saw, making it ideal for spring pruning and trimming for tree and shrub maintenance.
"The WORX electric pole saw is a versatile yard performer that allows the operator to keep both feet on the ground while pruning low-hanging branches, trimming overgrown shrubbery or thinning out trees and bushes," said Brandon Martin, WORX Product Manager. "When detached from its extension pole, the saw can tackle many other chores, such as after-storm yard clean-up and cutting firewood."
Early spring, when trees and shrubs are still dormant, is a great time to prune with the electric pole saw. Pruning at this time helps produce a vigorous burst of new growth later in the season. Without leaves, it's easier to see a tree's structure and perform corrective pruning. Homeowners should check for common problems, such as branches that rub against the house, interfere with walkways or cross other limbs. Dead, broken, diseased or insect-infested limbs also should be removed.
Unruly shrubs can be pruned by thinning rather than shearing at the top. Thinning reduces the shrub's size without changing its overall shape. Flowering trees and shrubs that bloom in spring should be pruned after the flowers fade. For more pruning tips, see the Toolshed blog entitled, "Prune Shrubs and Trees Now for a Carefree Summer," by Mark Wolfe, listed under News & Press at http://www.worx.com.
The WORX electric pole saw features a 10 in. low-kickback bar and chain, which is driven by a powerful, 8-amp motor. Tool-less installation of the extension pole is a snap. The saw handle slips into a snug-fitting sleeve at the end of the pole, and a large knob is hand-tightened to secure the saw.
The versatile pole saw includes the patented WORX Auto-Chain Tension system. A large dial on the saw's body is turned, and the system sets the proper chain tension to prevent over-tightening.
An automatic oiler system includes a reservoir with an oil level indicator. Constant lubrication is provided to both the bar and chain during operation. The eco-friendly electric pole saw is covered by a WORX three-year warranty.
The WORX 8A, 10 in., Electric Pole Saw (WG309, $99.99) is available at http://www.worx.com and other online retailers, including Lowe's, and Walmart (WG310, $99.99).
For other light-duty yard clean-up, homeowners should consider the WORX® JawSaw® that's engineered to safely cut branches up to 4 inch diameter directly on the ground, above ground and overhead.
JawSaw's optional 5-foot extension pole can be used to reach tree limbs up to 12 feet from the ground. The extension pole requires no tools to attach or detach. JawSaw also features the Auto-Tension chain tensioning and replacement system, as well as the WORX automatic oiler system.
JawSaw (WG307, $99.99) and JawSaw 5-ft. Extension Pole (WA0163, $39.98) are available at http://www.worx.com and other online retailers, including Amazon, Lowes, Home Depot and Walmart. The JawSaw is covered by a WORX three-year warranty
To reach out to WORX social media links visit: Facebook: https://www.facebook.com/worxus?ref=hl; Twitter:https://twitter.com/WORXTools; Pinterest: http://pinterest.com/worxtools and Instagram: @WORXTools