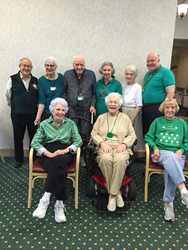 "We'll have happy hour, tell Irish jokes, and sing 'Danny Boy.' There's something magical about Ireland that brings out joy in everyone," said Monarch Landing licensed clinical social worker Jennifer Shea.
Naperville, IL (PRWEB) March 17, 2016
Ah, March. Birds twitter, brown grass gives way to spring green, and a certain Irish saint makes everyone a little happier. At Monarch Landing senior living community in Naperville, residents in the Irish Heritage Club celebrate their love of Erin all year long, particularly the week of St. Patrick's Day, when everyone—Irish or otherwise—catches the shamrock spirit.
This year, special events include a presentation of one man's Emerald Isle bicycle adventure, bagpipe players from the Emerald Society, featuring Naperville Deputy Police Chief Brian Cunningham, the talented young dancers from the Trinity Academy of Irish Dance, and music from the Chicago Irish School of Music. All week long, Irish food is on the menu, seasoned with a generous dash of conviviality. "We'll have happy hour, tell Irish jokes, and sing 'Danny Boy.' There's something magical about Ireland that brings out joy in everyone," said Monarch Landing licensed clinical social worker Jennifer Shea, who plays the Celtic fiddle with the Murphy Roche Irish Music Club every Sunday.
The weeklong celebration goes back several years, when Shea and residents of predominantly Irish descent met to plan St. Patty's Day activities. Realizing how much they enjoyed one another's company, the group decided to meet monthly and dubbed themselves the Irish Heritage Society. Today, the club of approximately 20 members meets quarterly to go on pub crawls, share slide shows of trips to Ireland and special Irish-related programs, and host tailgate parties and other events on the Monarch Landing campus. Some have traveled to the Irish Legend pub in Willow Springs to see Shea and her fellow musicians perform. And because they don't want to wait a whole year to celebrate the emerald festivities again, they host a "halfway to St. Patrick's Day" Celtic meal on September 17.
Club activities are open to all residents. "This group is for everyone who is Irish or wishes they were!" said Shea. Events aside, the heart of the group is sharing stories and reminiscences of their Irish roots. Some have even discovered they are related to one another. Rosemary Benson (nee Lawlor) found her second cousin, Barbara Abram, at Monarch Landing. By sheer luck of the Irish, the two women learned that Benson's grandmother and Abram's grandfather were first cousins.
Said Benson, she and Abram visited their family home in Ireland years apart from one another. "We have some of the same memories and pictures. Monarch Landing is like one big family anyway, and to find that someone here is literally family is really amazing." The self-appointed program chair of the Irish Heritage Society, Benson treasures the wealth of knowledge she has gained from her connections in the club. "There are some newer members who are really up on Irish history, and it's really nice to hear their stories."
In addition to her Irish activities and two European riverboat trips with the Monarch Landing travel club, Benson line dances, participates in fitness classes three times a week, plays bridge, canasta and Mexican train. "I'm busy, busy, busy at Monarch Landing, and I love it!" she said. For her part, she will be wearing green every day of the St. Patrick's Day celebration.
Monarch Landing is a Life Plan Community located on a scenic campus in Naperville, Illinois-named "one of America's best places to live and retire" by Modern Maturity, and "the best city for early retirement" by Kiplinger. Monarch Landing offers independent living, promoting a vibrant life style for active seniors. The Springs at Monarch Landing offers assisted living memory support, rehabilitation and skilled nursing services, thus providing complete continuing care for seniors. Monarch Landing is owned by Senior Care Development and managed by Life Care Services. For additional information visit http://www.WelcomeToMonarchLanding.com or http://www.TheSpringsatMonarchLanding.com.