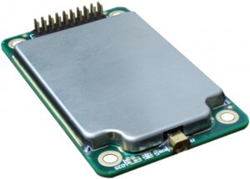 Utilizing Semtec's LoRA technology, and very advanced RF designs, the RV-M50 Daisy Radio Modem is a very small and very economical module.
(PRWEB) March 18, 2016
IWCE Trade Show in Las Vegas:
Raveon Technologies Corporation will show the latest LoRa wireless IoT design and market solutions, along with their leading edge narrowband wireless daisy radios and base stations, at IWCE in Vegas on March 21st – 25th, 2016. John Sonnenberg, the President of Raveon, will be speaking at the Internet of Things and M2M Primer conference on Monday, March 21 at 2:30pm. For more information on the panel, "Can the Internet of Things Save the World?".
For free tickets to the convention, please contact Raveon Technologies using the contact information in the sidebar.
Raveon Technologies has expanded the scope of products they manufacture, to even better support customers who do machine-to-machine (M2M) communications and also want to communicate with these devices through their own networks, or via the Internet. For many of these applications, Raveon's narrow-band data radio modems like the RV-M7 are great solution. But when long-range connectivity is not necessary, or it is necessary to utilize a cellular carrier's network, Raveon now has the most flexible IoT modem platforms in the wireless industry.
The new LoRA based RV-M50 radio modem for "Daisy Chaining" a network operates on the 915MHz ISM band.
Features include:

Certified 3G cellular modem module with support for multiple carriers.
VHF, UHF, and 220MHz RV-M8 radio models.
All the above with GPS tracking options!.
All the above available as OEM modules, or in the innovative Tech Series enclosure.
RV-M50 Daisy Radio Modem
Utilizing Semtec's LoRA technology, and very advanced RF designs, the RV-M50 Daisy Radio Modem is a very small and very economical module. At less than $60 in quantities, it still has incredible communication range. These little modules will work over miles, and in ideal conditions as much as 10 miles. They are ideal IoT radio links for Daisy-Chaining a network to remote devices. For years people have been trying and failing to use WiFi and BlueTooth modules to communicate a mile, and now Raveon has a license-free 915MHz radio modem that will go miles while drawing little power and costing very little. The RV-M50 is FCC certified in the USA, and also has a GPS options for GPS tracking and geo-location applications.
RV-Z50 3G Cellular Modem
The RV-Z50 Cellular Modem is a very small and economical module. It utilizes the same footprint as the RV-M50 Daisy Modem, so in one device, one can use either technology by plugging in the right Raveon modem for the desired application.
The M21 Tech Series Enclosure Pulls it All Together
The Tech Series enclosures are rugged, modular data radio enclosures that work with the M50, Z50, and M8 radio series modem modules. With its field-configurable I/O interface, the M21 can be configured for RS-232, RS485, USB, GPIO or Audio interfaces in the lab or in the field as needed. Design the Tech Series enclosure into your system, and you can choose narrow-band RF, 915MHz ISM, or Cellular radio modems. And also choose the front I/O panel option as the system requires.
The Tech Series front panels are available with RS-232, RS485, USBm digital I/O and analog I/O connections. And feature a rugged sealed power connector.