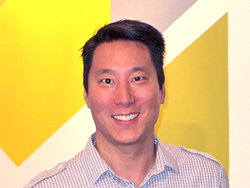 Adding Felix Chen to Society takes our Big Data capabilities to a whole new level. - Chad Richeson, Co-Founder & CEO
Bellevue, WA (PRWEB) March 18, 2016
Society Consulting, one of the largest and fastest-growing analytics consultancies in the nation, announced today it has appointed Felix Chen as Managing Director of its national Big Data practice in addition to its Silicon Valley and Southern California digital analytics practices. Based at the company's Seattle headquarters, Chen will lead a team of over 40 data scientists, data engineers, and digital analysts to deliver innovative big data, data science, and digital analytics solutions for Society's growing client base.
Chen most recently led Disney's Big Data team delivering advanced digital technology solutions for ESPN, ABC, Disney Interactive, Walt Disney Studios, and Walt Disney Parks and Resorts. Prior to his tenure at Disney, Chen played leadership roles at T-Mobile, Wal-mart, and Coinstar. Chen is regarded as an expert at leading data science and data engineering initiatives in large-scale customer data environments. Chen is a graduate of MIT.
"Adding Felix to the team takes our Big Data capabilities to a whole new level," said Chad Richeson, Co-Founder & CEO, Society Consulting. "We were already an industry leader in large-scale data solutions, and we will build on that advantage under Felix's leadership."
The addition of Chen to Society's leadership team reinforces the company's mission of helping its clients Compete on Customer Experience, combining analytics, big data infrastructure, and customer-facing technologies into compelling digital customer experiences, and helping forward-thinking companies unleash the power of big data.
"I am excited to join Society as the company expands to serve a market it helped pioneer," said Chen. "It's a great time to be in the Big Data space helping companies keep astride with the latest in open source technologies and delivering algorithms without the need for full time staff data scientists. We're looking forward to adding these rich features into Society's Amper product. The time is especially right as companies rapidly migrate to and augment their infrastructure with the cloud."
About Society Cconsulting
Society Consulting is a Seattle-based analytics consultancy that serves blue chip clients including Microsoft, AT&T, Sephora, Salesforce, T-Mobile, Fox, and Verizon. Society offers Analytics, Big Data, and Customer Experience services to help its clients create innovative data-driven customer experiences. Society was recently ranked as the #21 fastest-growing consultancy in the nation by Consulting Magazine. For further information please contact chad(at)societyconsulting(dot)com.