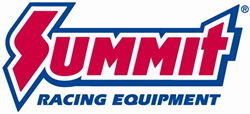 Tallmadge, OH (PRWEB) March 25, 2016
Summit Racing now carries PerTronix Flame-Thrower Plug and Play Billet Distributors with the Ignitor III Module. The two most common upgrades to an ancient ignition are a new distributor and maintenance-free electronic ignition control, so PerTronix combined both in one drop-in package.
The Ignitor III Module is essentially an ignition box that's small enough to fit on top of the distributor. It delivers up to five times the spark energy versus a points-style setup, which results in improved horsepower and fuel economy. The module contains a powerful micro-controller that uses adaptive dwell technololgy to ensure peak spark delivery throughout the RPM range. It also boasts an adjustable rev limiter with LED display.
The PerTronix Plug and Play distributor body is CNC-machined from billet aluminum, and features a tempered shaft for more accurate timing and a longer service life. Cobalt magnets and a Hall effect trigger ensure precise spark delivery. The unit's small size makes it well suited to tight engine bays and engine swap applications.
PerTronix Flame-Thrower Plug and Play Billet Distributors with Ignitor III Module are available with ether mechanical and vacuum advance. They're pre-set at the factory with a performance advance curve, but additional springs are included to build a custom advance curve. Distributors using vacuum advance are 50-state legal under CARB E.O. number D-57-12.
PowerNation TV's Engine Power guys liked the idea of having a drop-in distributor with built-in ignition control. In fact, they used the Ignitor III's adjustable rev limiter to allow for improved high-RPM performance on their Ford 390FE build. Watch the full episode.
Summit Racing Equipment
http://www.SummitRacing.com
1-800-230-3030