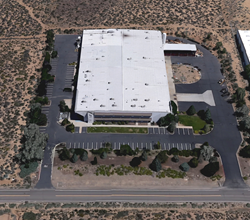 "This was a fantastic win-win deal - Dura-Bond will use the cash generated from this sale to further their efforts in growing their business, and we have a fantastic tenant with a wonderful company and great integrity." - Jordan Wirsz
(PRWEB) March 22, 2016
Savant Investment Partners announced that is has officially acquired Dura-Bond Bearing Company's Northern Nevada manufacturing facility, striking a deal to buy the 78,416 square foot facility on more than 6 acres, with the agreement for Dura-Bond to lease the property back for a 15 year term with additional extension options. Savant is betting big on Dura-Bond, a 67 year old company with an impeccable track record, and the fact that Dura-Bond has virtually no significant competition in North America. Dura-Bond is the world's largest manufacturer of replacement camshaft bearings, and the leading manufacturer of transmission bearings, powder metal valve seats and valve spring shims. Savant Investment Partners showing its bullish stance on the Northern Nevada industrial real estate market by acquiring one of only 180 industrial buildings in the market.
"Savant's partnership with Dura-Bond is a perfect match. Not only did we acquire a great asset with a great tenant, but we also feel like we're doing business with likeminded people; hard working, good folks who build incredible high quality products," said Jordan Wirsz, Chairman and CEO of Savant Investment Partners. "This was a fantastic win-win deal --- Dura-Bond will use the cash generated from this sale to further their efforts in growing their business, and we have a fantastic tenant with a wonderful company and great integrity."
Savant represented themselves in the purchase through their affiliate Savant Commercial Real Estate, while Dura-Bond chose Greg Shutt and Chris Fairchild of Colliers International in Reno to broker the deal for them. Chuck Barnett, President and Owner of Dura-Bond said, "We originally built this building for our company in 1989 and we have continued to enjoy this amazing facility ever since. We look forward to a wonderful relationship with Savant Investment Partners and many years together as we continue to grow and expand our business here in Carson City. We got lucky dealing with Jordan Wirsz, one of the most astute and capable deal makers I've seen. We're proud to be a part of Savant's continued success as well."
Savant Investment Partners and Savant Commercial Real Estate are headquartered in Las Vegas, Nevada. The acquisition of this Dura-Bond industrial building marks the first of many more purchases that Savant intends to make in Northern Nevada. The Savant group of companies owns and operates a portfolio of high quality real estate throughout the United States, with an emphasis on the Southwestern states, including Industrial, retail, office and multi-family apartment housing. Savant continues to acquire and develop commercial and multi-family real estate in growth-trending areas. Savant's CEO, Jordan Wirsz, is a nationally recognized and award-winning businessman who has become one of the nation's most notable real estate investors. Mr. Wirsz has also been featured on national television programs citing his expertise in the high stakes arena of commercial real estate investing.