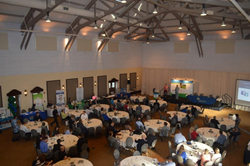 We would like to thank all of our sponsors, speakers, supporters and attendees for their dedication to making this event the greatest telehealth industry event in the region
(PRWEB) March 22, 2016
Georgia Partnership for TeleHealth (GPT), a charitable nonprofit promoting the establishment of telemedicine programs in communities throughout Georgia, hosted over 160 attendees from throughout the Southeast during its Seventh Annual Spring Conference, which took place March 2-4, 2016 at the Jekyll Island Club Hotel in Jekyll Island, GA.
This year's conference featured distinguished telehealth experts that spoke on a variety of topics, including:

Current Reimbursement and Future Trends
Building Pediatric Specialty Care Capacity Through Project ECHO
Telemedicine Missions; Domestic & Overseas
Mobile Integrated Health Care: Redefining the Role of Public Safety in Community Health & Wellness
Telehealth Law: 2016 & Beyond
This year's speaker presentations can be accessed here.
As part of this year's conference theme, "The Innovation Edge of Everything," GPT announced the recipients of the Telehealth Corporate Champion of the Year, Telehealth Champion of the Year and Telehealth Coordinator of the Year Awards. Recipients were selected based on their commitment to the growth, innovation and advocacy of telemedicine services.
Ethica Health & Retirement Communities received the Telehealth Champion of the Year Award. Ethica Health & Retirement has implemented telehealth services in many Skilled Nursing Facilities (SNFs) across the state which has benefited many of Georgia's senior citizens.
The Telehealth Champion of the Year Award went to Millie Thrift, RN and Coordinator for the Ware County School System in Waycross, GA. Ms. Thrift has launched one of the most successful school-based telehealth programs in the state. Her enthusiasm for delivering the right care at the right time to her students has made her a true champion.
Jennifer Murphy of Appling County was the recipient of the Telehealth Coordinator of the Year Award. Ms. Murphy has become the strongest of telehealth advocates and professionals in her county. She is successfully launching & coordinating telehealth services between schools, hospitals and clinics. GPT expects that Appling County's telehealth program will become a premier model for other county systems to emulate, under her leadership.
"We would like to thank all of our sponsors, speakers, supporters and attendees for their dedication to making this event the greatest telehealth industry event in the region," states Rena Brewer, CEO of GPT. "GPT would also like to personally congratulate all of its award winners. Your dedication to telemedicine is truly inspiring and your efforts have a far reaching impact. Thank you for being the champions that you are, together we will grow the number of communities that have access to telemedicine. We look forward to another engaging and successful summit next year on Jekyll Island and hope to see you there."
For more information on GPT, please visit http://www.gatelehealth.org/.
###
About Georgia Partnership for TeleHealth
Georgia Partnership for TeleHealth is a charitable nonprofit corporation, which was formed to promote improvements in healthcare and healthcare facilities in communities by assisting in the establishment of telemedicine programs. GPT is known as the leading agency globally focusing on increasing access to healthcare through innovative use of technology. GPT is one of the entities that belong to the Global Partnership for TeleHealth.
The mission of the Global Partnership for TeleHealth is to deliver worldwide access to healthcare. Our unparalleled success in the United States in applying telehealth programs and services has assisted agencies in providing cost effective, efficient, and high quality healthcare. For more information, visit the GPT website at http://www.gatelehealth.org/.