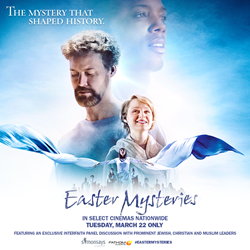 Denver, Colorado (PRWEB) March 21, 2016
From the producers who brought you the Tony-Award® winning Broadway hit "A Gentleman's Guide to Love & Murder," comes "Easter Mysteries," an original, and wholly entertaining musical theater depiction of the Easter story for modern audiences. Presented by Fathom Events and SimonSays Entertainment, "Easter Mysteries" will play in select U.S. cinemas for one night on Tuesday, March 22 at 7 p.m. local time, and features veteran Broadway actors and singers from the stages of "Les Misérables," "Mary Poppins," "The Phantom of the Opera" and more. In addition to the feature content, a timely interfaith discussion between Christian, Jewish and Muslim leaders on the essence and power of Passion plays will complete the event.
Tickets for "Easter Mysteries" can be purchased by visiting http://www.FathomEvents.com or at participating theater box offices. Fans throughout the U.S. will be able to enjoy the event in nearly 300 movie theaters through Fathom's Digital Broadcast Network. For a complete list of theater locations visit the Fathom Events website (theaters and participants are subject to change).
Broadway veteran actor Phillip Boykin, who plays Caiaphas, is enthusiastic about the production. "This is a Passion play like no other. The love bursts forth and the music soars. First there was 'Godspell,' then there was 'Jesus Christ Superstar,' then there was 'Joseph,' and now there's 'Easter Mysteries,' and it's at the top of my list!'"
"Easter Mysteries," directed by Daniel Goldstein, was staged and captured before a live audience. This first-rate production offers audiences the chance to see, feel and hear real peoples' experience of this touchstone story of Western civilization in a fresh and moving way.
The music, libretto and lyrics are by Tony Award-winning Broadway producer John O'Boyle with musical arrangements and music direction by Milton Granger.
"Seeing this thought-provoking musical in cinemas is the perfect way to celebrate Easter with family and friends," said Fathom Events VP of Programming Kymberli Frueh. "With a highly acclaimed cast and crew, 'Easter Mysteries' is sure be both an uplifting and entertaining experience."
SimonSays Entertainment's CEO Ron Simons commented, "We're particularly proud to be presenting this beautifully composed work featuring, and created for, audiences of all beliefs, races and genders. Because such a diverse mix of people fill our outstanding cast this production fits squarely within SimonSays' mission to Tell Every Story®."
For artwork/photos related to "Easter Mysteries," visit the Fathom Events press site.