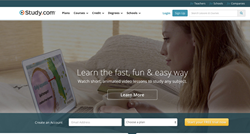 Study.com is like having a world of personal instructors at your fingertips.
Mountain View, CA (PRWEB) March 23, 2016
Study.com has been named a 2016 winner of the National Parenting Products Awards (NAPPA), one of the longest-running and respected award programs in the country. The popular education website, which provides video lessons and online courses for all major K-12 and college subjects, was recognized as one of the best educational products for families.
"Study.com's vast library of educational videos has something for everyone in the family, including mom and dad," says NAPPA General Manager Julie Kertes. "The videos are engaging and effective and the follow up quizzes complement the lessons nicely."
The National Parenting Product Awards (NAPPA) is the most comprehensive and selective awards program in the family and children product market. NAPPA's recognition is more than just a seal of approval: it means that a product has been carefully evaluated and deemed "top of its class" by expert judges, parents, child testers, and product reviewers.
"With so many products on the market, it's sometimes hard for moms and dads to find time to separate the truly great from the rest of the pack," says Julie Kertes, NAPPA General Manager. "Our testers save them legwork by carefully evaluating hundreds of products and awarding only the best of the best. Study.com is like having a world of personal instructors at your fingertips. Students of all ages will find something that will ignite their excitement to learn."
Study.com offers over 10,000 video lessons in all major K-12 and college subjects. The animated lessons are designed to explain topics in a simple and entertaining way. Over 30 million students a month, use the website to learn new concepts, complete school assignments, study for tests, and earn college credit.
"One of the biggest challenges in education is keeping students engaged and excited about learning," says Study.com CEO Adrian Ridner. "Our expert instructors and great animators bring concepts to life in short videos students love. We are honored that NAPPA has recognized Study.com as one of the best educational resources for parents and their children."
About Study.com
Study.com is the simplest, most efficient way to learn. Over 30 million students a month use our online courses and study tools to master any subject. We help K-12 and college students excel academically and professionals gain the skills they need in the workplace. Study.com's animated videos bring concepts to life and provide an easy, low cost way to improve grades, earn college credit and close skill gaps. Study.com was founded in 2002 and remains a privately held company located in Mountain View, California.
About NAPPA
For 25 years, the National Parenting Publications Awards (NAPPA) has been the go-to resource for the best products for families. NAPPA's team of independent expert judges, along with parent and child testers, select the best toys, games, books and other family essentials to be award winners through year-round product testing. For more information, visit http://www.NAPPAawards.com.