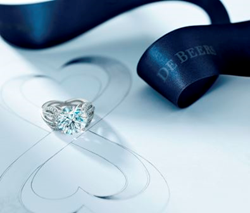 The Infinity Heart engagement ring designed exclusively for Liu Shishi by De Beers Diamond Jewellers.
New York, NY (PRWEB) March 22, 2016
De Beers Diamond Jewellers is delighted to celebrate the wedding of Liu Shishi and Wu Qilong. Chosen by the Chinese celebrity couple as their jeweller of choice, De Beers has created an exclusive engagement ring design for Liu Shishi entitled the Infinity Heart. An exceptional five-carat diamond is the hero of an intricate interweaving path of pavé diamonds representing the timelessness of love.
The De Beers Infinity Heart honours the timelessness of love through an eternal interweaving path of pavé diamonds. Combining both a modern and classic aesthetic, a beautiful round brilliant solitaire diamond is elevated by two hearts of thread pavé mounted on platinum, embodying the life-long and heart-felt vows made during marriage.
Inspired by the Infinity Heart engagement ring crafted for Liu Shishi, De Beers will also introduce a one-carat Infinity Heart ring, exclusively available in-store through our For You, Forever service.