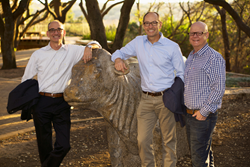 Clear Rock Advisors is a seasoned team of investment professionals with shared values dedicated to providing our clients superior personalized wealth management solutions.
Austin, Texas (PRWEB) March 28, 2016
Clear Rock Advisors, LLC, a full-service wealth management firm aimed at helping families manage wealth for generations, has officially opened offices in Austin and Dallas, Texas. Co-founded by three established financial services veterans, Clear Rock Advisors serves high net worth families and specializes in customized wealth management strategy design, implementation and monitoring. The firm will be headquartered in Austin.
Charles (Chuck) F. Hall, Jr., former Director of Private Client Services at investment management firm Matterhorn Capital Management, is the visionary for Clear Rock Advisors and will serve as Chairman.
"I wanted to assemble a seasoned team of investment professionals with shared values dedicated to providing our clients superior personalized wealth management solutions," said Mr. Hall. "Together with my Partners Ty and Royce, we have done that and are most excited about the future of Clear Rock."
Mr. Hall co-founded Clear Rock Advisors, LLC with two other seasoned Texas financial experts:

Ty Sanders, former Director of Institutional Services for Matterhorn Capital. Mr. Sanders will operate as Clear Rock Advisors' Chief Executive Officer and provide strategic and operational leadership and management.
Royce W. Medlin, former Director, Capital Advisory Group at Lazard Asset Management. Mr. Medlin will operate as Clear Rock Advisors' Chief Investment Officer and lead the firm's financial planning and portfolio management services.
Clear Rock gives clients a trusted partner in navigating complex financial needs including:
Holistic goal-based financial planning including retirement and education, cash flow, asset protection, tax, executive benefit analysis, and generational wealth transfer.
Open architecture, institutional-quality portfolio management programs including market and investment research, asset allocation strategy development, risk managed portfolio construction—backed by state-of-the-art technology for transparent portfolio monitoring and reporting.
The company's namesake comes from Mr. Hall's family Clear Rock Ranch in the Texas Hill Country, and is the inspiration for how he and his partners designed the firm to function. For generations, the ranch has been a special place for family and friends to be together; a place where the truth is always spoken, and values, ideas and knowledge are openly shared between generations. Since Clear Rock Advisors views clients as their extended family, branding the firm Clear Rock seemed a fitting reflection of their core values and specialized services they provide.
The Austin office is located at 5351 Thunder Creek Road, Suite A and is led by Ty Sanders. The Dallas office is located at 100 Crescent Court, Suite 700 and is led by Royce Medlin.
About Clear Rock Advisors, LLC
Clear Rock Advisors works closely with its clients to provide highly personalized wealth management solutions tailored to assessing and achieving specific individualized objectives. From strategy design through implementation and ongoing management, the Clear Rock team works diligently to provide sophisticated solutions with high touch client service. It's ongoing management process includes regular updates and modifications to ensure a current and dynamic plan is being optimally implemented. For more information, please visit http://www.clearrockadvisors.com.