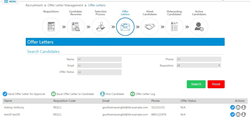 Los Altos, CA (PRWEB) March 23, 2016
SutiSoft Inc., a leading provider of easy-to-use web-based and mobile business management platforms, today announces that the recruitment, personnel, time and attendance, and recruitment modules of SutiHR, its online HR management platform have been updated with new functionality.
Recruitment:
The recruitment selection process which displays all the stages starting from requisitions to active candidates has been added to the recruitment module.
Based on the recruitment process, recruiters can now define their flow for hiring candidates.
The selection process of the recruitment module has been updated to simplify the candidate hiring process.
Time & Attendance:
System now provides an option for employees to apply for time-off with the balance that would be accrued up until the time-off applied date.
Employees can now clock in/out by selecting a department and a category of their choice.
Project-wise clock in option is also provided.
Personnel:
With the addition of the eSignature documents tab, HR administrators can now easily view the list of documents assigned to each employee.
The solution automatically alerts HR administrators when an employee's personal profile details are changed.
For additional information about the product please visit: http://www.sutihr.com or call us on 650-969-SUTI.
About SutiSoft
Sutisoft provides a comprehensive suite of cloud-based business platforms and solutions for companies of all sizes. These platforms include scalable and easy-to-use solutions for HR, Employee Travel & Expense, Wireless Spend Management, CRM, Document Management, Business Data Analytics, and Electronic signature. Our platforms and solutions enable small, mid-size, and large enterprise customers to control costs, save time and assist in making smart business decisions. Headquartered in Los Altos, California, SutiSoft also has regional offices in Germany, India, and Japan. For additional information visit our web site at http://www.sutisoft.com.