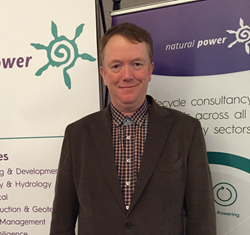 (PRWEB UK) 24 March 2016
The global renewable energy consultancy, Natural Power, is gearing up its Irish operations in response to market requirements. As the business moves to a new larger office in Dublin to accommodate the growing staff role, new start Roger Macnaughton has been appointed as a senior ecologist.
This key hire will be pivotal to the continued expansion of the business in Ireland as Roger will lead the delivery of ecological and hydrological services, specifically building the team in this area, and making it the first dedicated ecology and hydrology team in Ireland.
This complements the existing range of services available from Natural Power including the delivery of pre-construction and construction consultancy services on renewable energy projects, typically involving taking projects from initial consent right through to final client handover of operational assets.
Marc Lamphiere, who leads the Natural Power team in Ireland, said: "We're delighted to welcome Roger to the team, and are already seeing the benefit of our expanded, dedicated team in this area."
Roger, a qualified and experienced ecologist with over fourteen years of professional experience in the environmental consultancy sector, joins Natural Power from Tobin Consulting Engineers in Dublin. He is experienced at working on multiple project types, including twenty five wind farm developments in Ireland, Scotland, Northern Ireland and England, and has vast experience of managing teams of ecologists on large, medium and small scale projects. He also has extensive experience of environmental impact assessment (EcIA) and appropriate assessment (AA) reporting for a broad range of projects potentially affecting terrestrial, freshwater and marine ecology. He has an additional seven years of primarily research based experience in freshwater and marine ecology.
Natural Power is attending and exhibiting (Stand 15) at the IWEA Annual Conference 2016 "Energy Matters" at the DoubleTree by Hilton Hotel, Dublin on 23rd and 24th March.
ENDS
About Natural Power
Established in the mid 1990s, Natural Power is a leading independent renewable energy consultancy and products provider. The company offers proactive and integrated consultancy, management and due diligence services, backed by an innovative product range, across the onshore wind, offshore wind, wave, tidal, renewable heat, solar pv and hydro sectors, whilst maintaining a strong outlook on other new and emerging renewable energy sectors.
Natural Power has been at the heart of many groundbreaking projects, products and portfolios for more than two decades, assisting project developers, investors, manufacturers, research houses and other consulting companies. With its iconic Scottish headquarters, The Green House, Natural Power has expanded internationally to work in 32 countries, and now employs over 320 renewable energy experts. This project experience spans a portfolio of 69GW which is equivalent to powering 4.7m UK homes.
http://www.naturalpower.com
https://twitter.com/Natural_Power
https://www.linkedin.com/company/natural-power
Contact details:
Jane Maher
PR and Media
Natural Power
T: 07887 995 589
E: janem(at)naturalpower(dot)com
http://www.naturalpower.com https://twitter.com/Natural_Power