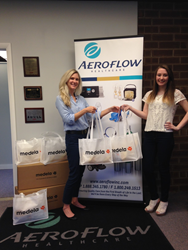 "It is vital to the health of these children that their mothers are able to provide them with breast milk and donating these breast pumps will help mothers reach that goal."
Asheville, North Carolina (PRWEB) March 25, 2016
Aeroflow Breastpumps has helped mothers across the county to receive their breast pump at little-to-no cost through their insurance. Aeroflow understands the importance of breastfeeding and strives to provide necessary breastfeeding equipment and supplies to as many women as possible. Recently, Aeroflow Breastpumps took this mission beyond the borders of the United States.
Along with a local high school student, Amber Culleton, and the Children's Health Ministries (CHM), a non-profit organization that strives to improve the nutritional wellbeing of mothers and children in Haiti, Aeroflow Breastpumps was able to supply pregnant and breastfeeding women with much needed manual Medela brand breast pumps.
Amber, a high school sophomore from Asheville, North Carolina, learned about the need for manual breast pumps for moms in Haiti through her sister who has traveled to Haiti with CHM several times. With healthcare and electricity options limited, many expectant and new mothers in Haiti have no access to proper breastfeeding supplies or education. Because of this, malnutrition cases among Haitian children are on the rise. It is Amber's hope that these manual breast pumps will work to decrease the number of hungry children in Haiti.
During their time in Haiti, the CHM has treated over 1,500 malnourished children by providing prenatal care, breastfeeding support, and disease screenings and prevention. Instead of spending her spring break at the beach like most other high school students, Amber and her sister will travel to Haiti with the breast pumps and several other items that Amber has been collecting.
"When Amber came to us with her story and asked Aeroflow to be involved, we were so excited to support a cause we believe in whole heartedly. We are blown away by her commitment to helping the people of Haiti and are so proud to be able to supply these mothers with the breastfeeding equipment they need", says Jennifer Jordan, Breastpump Director at Aeroflow. "It is vital to the health of these children that their mothers are able to provide them with breast milk and donating these breast pumps will help mothers reach that goal."
To learn more about Children's Health Ministries or how you can help, visit their website at http://www.chmhaiti.org.
Aeroflow Breastpumps, a subsidiary of Aeroflow Healthcare, is a Durable Medical Equipment (DME) provider specializing in helping pregnant and nursing women qualify for their free breast pump through insurance and the Affordable Care Act. To learn more about Aeroflow Breastpumps, visit http://www.breastpumps.aeroflowinc.com or call (844) 867-9890.