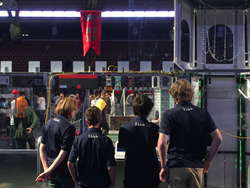 Sandy, UT (PRWEB) March 24, 2016
On Saturday, March 19, the Waterford School's "First Year Ravens" Robotics team earned first place in the 2016 Utah FIRST Robotics Competition. FIRST Robotics is an international high school robotics program that fosters the application of science and technology in a uniquely cooperative competitive setting. The event was held March 18-19 at the Maverik Center and included 36 teams from across the United States and Canada.
The Waterford Robotics program was established in 2009, and since that time, Waterford teams have won four regional competitions and participated in the 2012 and 2013 World Championships in St. Louis, Missouri. This year, Waterford was represented by two teams in the Utah Regional Competition, "First Year Ravens" and "Ravens." Team members spent hundreds of hours over the winter designing, prototyping and building their robots for this year's "FIRST STRONGHOLD" game.
Waterford's "First Year Ravens" team won the final round of the Utah Regional competition playing alongside alliance partners, "Team Appreciate" of Austin, Texas, and the "Alberta Tech Alliance" of Calgary, Alberta. The victory earned the team an invitation to represent The Waterford School at the 2016 World Championships in St. Louis, April 27-30.
The Waterford Robotics Team is sponsored by Universal Industrial Sales (U.I.S.) and Sinclair Oil.
The Waterford School is a private, liberal arts college-preparatory school located in Sandy, Utah, for students in preschool through grade 12. For more information visit http://www.waterfordschool.org.
For more information about the FIRST Robotics Competition visit http://www.firstinspires.org/.