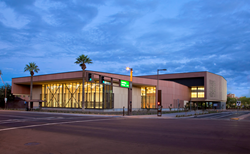 Gilbane is proud to have been a part of such a great project team and this Platinum Certification reaffirms Gilbane's commitment to building environmentally sustainable projects. - Tom Goderre, Gilbane
Phoenix, AZ (PRWEB) March 29, 2016
The U.S. Green Building Council has awarded the Arizona State University (ASU) Tempe Sun Devil Fitness Complex a LEED® Platinum Certification – the highest level offered which demonstrates the commitment to environmental standards of excellence.
Designed by Studio Ma/Sasaki and built by Gilbane Building Company , the new recreation complex has many sustainability elements incorporated into the facility, such as:

93.3% of on-site generated construction waste was diverted from landfills.
21.29% of the total building materials value includes materials and products that have been manufactured and extracted within 500 miles of the project.
28 of 35 Energy and Atmosphere credits were awarded. Because of this energy conscious design the building realizes an energy cost savings of 63.63% and through renewable energy generated on-site, 20.62% of the total energy costs is offset.
"Achieving LEED Platinum Certification for the ASU Sun Devil Recreation Complex project was no small effort, and was truly a team effort between Arizona State University, Studio Ma/Sasaki and Gilbane" said Tom Goderre, Gilbane's Vice President in charge of the company's Arizona business unit. "Gilbane is proud to have been a part of such a great project team and this Platinum Certification reaffirms Gilbane's commitment to building environmentally sustainable projects."
About Gilbane, Inc.
Gilbane provides a full slate of construction and facilities-related services – from pre-construction planning and integrated consulting capabilities to comprehensive construction management, close-out and facility management services – for clients across various markets. Founded in 1873 and still a privately held, family-owned company, Gilbane has more than 50 office locations around the world.