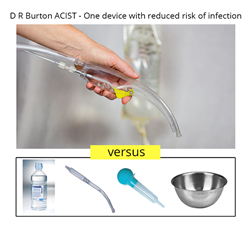 The D R Burton ACIST™, Augmented Closed Irrigation Suction Technology, combines both surgical suction and irrigation into a simple one-handed device with reduced risk of infection
Farmville,NC (PRWEB) March 28, 2016
D R Burton Healthcare Products LLC, makers of surgical and respiratory products, is attending The Association of periOperative Registered Nurses (AORN) Surgical Conference & Expo 2016 in Anaheim, CA on April 3-6, 2016 in booth 2126. D R Burton is a medical device innovator driven by unique clinical perspective. This perspective, combined with superior product research and development along with quality manufacturing, provides customers with a world class user experience.
D R Burton was founded by Dr. Joyce Burton, physician, respiratory therapist and engineer. Her unique background and experience places a high value on patient usability and improved clinical outcomes. This is demonstrated in the D R Burton ACIST™, Augmented Closed Irrigation Suction Technology, which combines both surgical suction and irrigation into a simple one-handed device with reduced risk of infection.
Dr. Joyce Burton explains, "Surgical wound irrigation has long been debated as a potentially critical intraoperative measure taken to prevent the development of surgical site infection (SSI). However, the use of IV solution in an open basin is far from sterile technique." The D R Burton ACIST replaces the OR use of open stainless steel irrigation basins with a closed sterile irrigation device.
Burton adds, "This simple innovative device is designed to reduce the risk of SSI, and also simplify the process for the surgeon by combining both suction and irrigation capabilities in a one-handed device." According to Burton, "it's our goal at D R Burton to help win the war on SSIs and make life easier for clinicians."
The D R Burton surgical and respiratory products will be displayed for clinical feedback at the AORN Conference. Visit D R Burton to discuss these products and other innovative concepts at booth #2126, on April 3-6, 2016.
For more information, visit http://www.drburtonhpi.com